Hi aford,
no developer mode is not needed.
step 1:
turn on camera, hold the mode button on the side for 2 sec, now it will ask on the display if you want to start the authydra plugin, (assuming you have download and installed it on the device) press the shutter (the big one in the middle to make pictures

) to start the app.
step 2:
connect to the wifi of the z1, it should be something like THETAYN#########.OSC where the ###### is the serial of your z1. (and also the password of the z1's wifi)
Once connected the wifi symbol on the camera should stop blinking.
step 3:
now naviagate to the website 192.168.1.1:8888 and you should be in the webinterface, it should look a bit like this: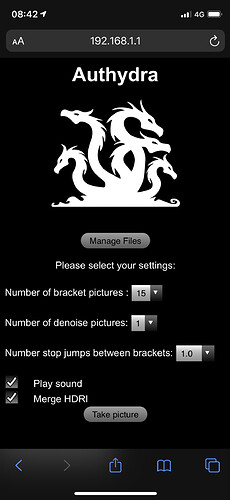 now you should be able to take pictures.
Keep in mind that the current version on the store is still very buggy with the z1. I'm working on fixing this but the bigger resoluation of the pictures arew eating all the memory so a lot more of memory management is neede to keep it running. Best for now to always set the denoise to 1 pictures.
Let me know if it works!