@codetricity Could you please DM me a link to the beta driver for THETA UVC 4K? Thanks, I really appreciate it.
Sent by email and DM. It's now publicly available from the Ricoh site as well.
hello
my laptop is i7 7700HG ram8GB nvidia 1050
run with theta v uvc 4k driver with obs is very hight CPU load 100% i can not stream.
i try theta v driver (not uvc 4k ) with MPC-HC to preview is low cpu use 20%.
i need theta v driver (not uvc 4k ) use with OBS for low cpu use.
But i have some problem with theta v driver (not uvc 4k ) not support in obs , no any video .
in this topic new driver theta v driver (not uvc 4k ) support in obs

i need theta v driver (not uvc 4k ) for obs (new version).
Please anyone sent new theta v driver (not uvc 4k ) .
my email is wirelessbkk@hotmail.com
thank you.
The screenshot you posted is from a Mac. The THETA V driver only works on OBS with a Mac.
If you want to use the THETA V driver on Windows 10, you need to use Media Player Classic, not OBS.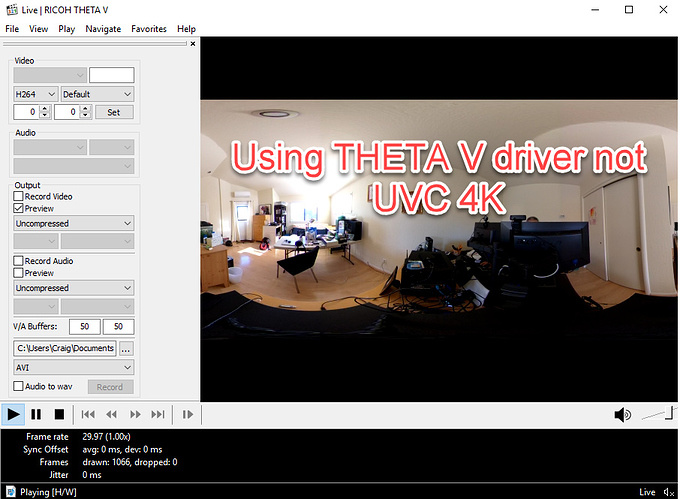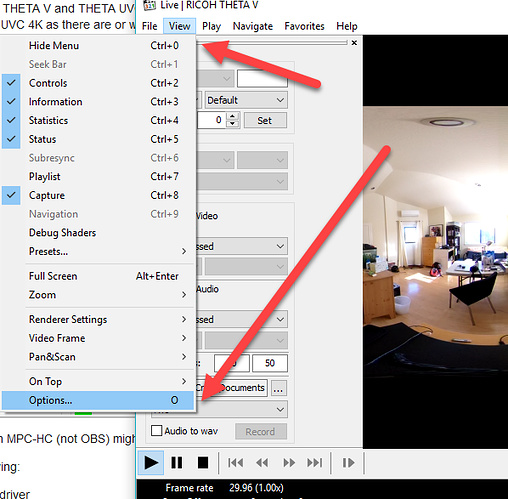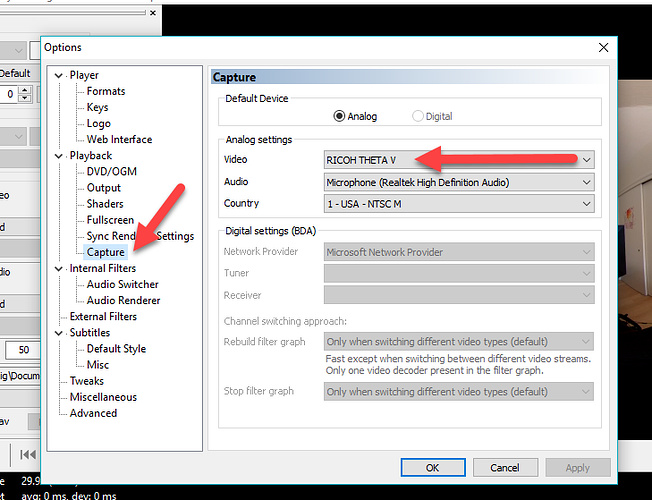 Read this post.
Hi codetricity,
Just wondering if the UVC 4K driver is one of the UVC 1.5 category and can we modify it under .net environment?
I have a task using Theta V and push image from theta to other app automatically.
Thanks again for you posting
The UVC 4K driver for the THETA V is compliant with UVC 1.5. However, I do not think it supports the entire UVC 1.5 specification.
I do not know about control under the .NET environment.
A community member is using Windows 10 with direct show to get the modes and KS_H264VIDEOINFO for debugging.
The community does not have a lot of information on this, so you would be forging new ground.
If you're just trying to push an email, can you using the normal WiFi API or the USB API?
Thank you very much, since it can stream using OBS in Windows so it should work in .net environment. Will look some more .
Thank you again
After going thru the thread, I realize the reason I don't get stream on my pc is because my windows version is too old (Win7 build 7601)
Thanks for everyone's post I know win 10 version 1703 will have the driver built in
but is there a way to install the driver separately but still in my old win7 version?
Many thanks!
I don't think it will work with Windows 7. You could try the 32 bit version of the Windows 10 driver.
In my windows 10 version 1803 theres NO DRIVER able to connect theta to MPC-HC or OBS.
Im able to view and live streaming in another windows 10 1703 but the audio is not being captured due to the usb 2.0 issues.
I was hoping theres some news on this problems, since i cannot live streaming more than 40 min cause heating (im charging while streaming) or heating+battering low (when not charging)
Are you saying that you don't have RICOH THETA UVC 4K appearing in the OBS drop-down window? Can you post a screenshot of the OBS selection?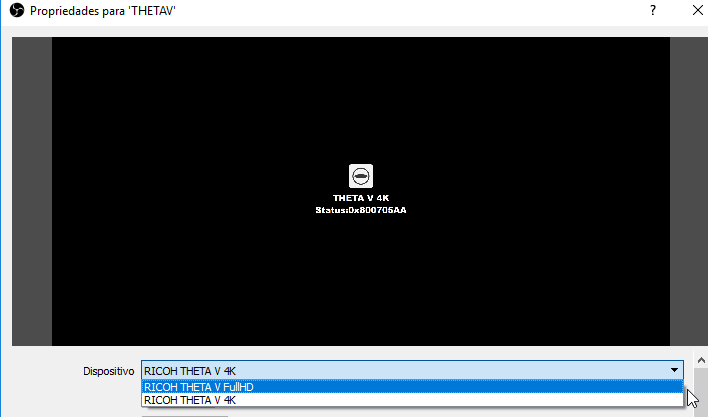 this is the drop down on computer 1.
I have tryed different cables, restart and different USB ports. no changes

OK. I'm going to run a test on my laptop. I'll update this post when I finish the test.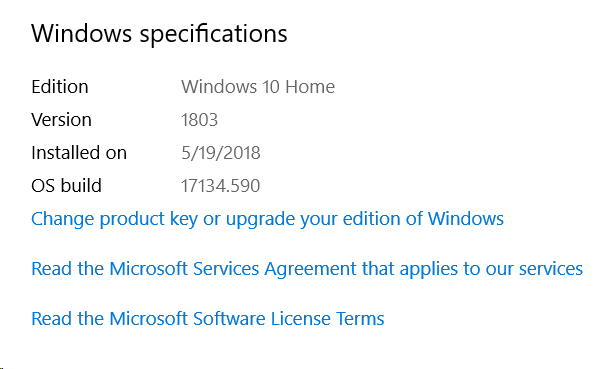 working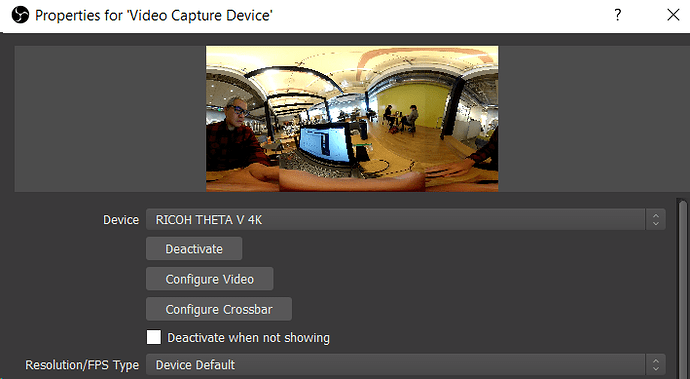 confirm your device manager looks the same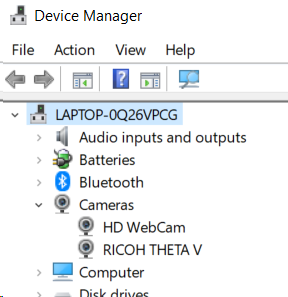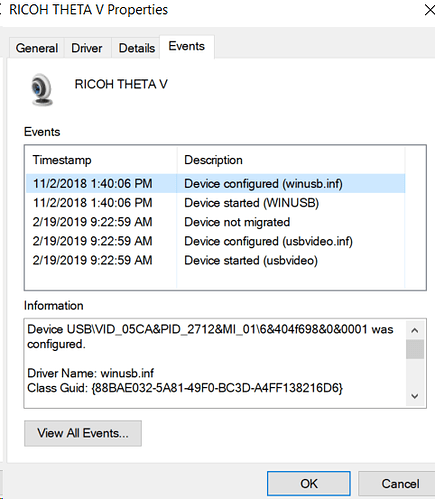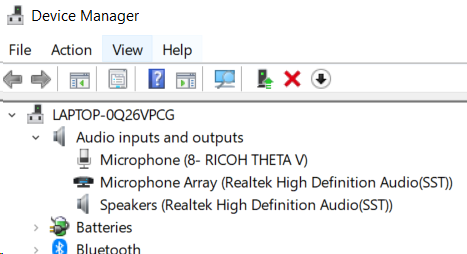 You probably don't need this
Checking regedit

---
Suggestion
Uninstall and Reinstall the Driver
This is an old topic, but for what it's worth, the Theta V seems to output YUV420 video (for 3840x1920 at 29.97 fps). I detected this by running ffmpeg -i on the mp4 file.
If latency is not a problem, you can stream it to YouTube and then use the YouTube app inside of the headset.
If latency is an issue, you can build a Unity app fairly easily to connect the computer stream to an Oculus Rift, not Go.
If you don't want to develop something from scratch, a desktop mirroring software might work.
VRidege claims to support Oculus Go and Rift.
I have not used it.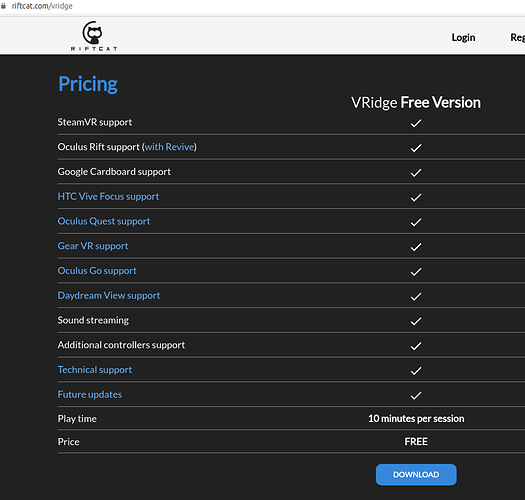 KinoVR may work with a phone.
Hi codetricity,
I'm trying to download the Z1 Windows Driver but I could not find it. Could you please past the link ?
Thanks in advance
Jecla