I recently spoke to Michael Wohl, a professional video producer in Los Angeles. After years of success producing videos for NGOs and instructing budding video producers on techniques, Michael jumped into the new world of 360° video production and applied the skills he honed over the past few decades to this new medium of 360° storytelling.
Michael sent me a copy of his book, The 360° Video Handbook, to review for the Unofficial Guides community. He also supplied our community with a free copy that we're giving away.
Photo Credit: Michael Wohl
Although Michael worked at Apple for many years and lectured at UCLA, he starts off his book with a personal dedication and anecdote. The book is dedicated to his two year old daughter, "For Greta and the magical worlds you will inhabit."
As video producers, it's our mission to transport our audience to a new magical world. Although 360° video, often referred to as VR video, gives us a new tool, Michael reminds us that artists have always created virtual worlds with paintings, music, and books. While 360° video cameras alone can provide a virtual world depicted in William Gibson's Neuromancer, it's an important piece of the puzzle that is making VR immersive experiences widely available today.
In a scene we can all relate to, Michael relates how everyone using 360° video in a headset for the first time is left with a feeling that this could expand the possibilities of human experience.
This vision, coming from someone with Michael's experience, would justify the cost of the book. However, Michael covers the full process of 360° video production, from an overview of camera equipment, guiding the viewer's focus to post-production and editing techniques such as rig removal. The book is very hands-on.
Michael brings the "professional" perspective to 360° videos and covers the roles of the crew, director, cinematographer, production design, 360° camera technician and more. Most of us with the THETA V are filling all of the roles ourselves. However, it's good for us to understand the different roles to increase the quality of our videos. Maybe we'll have video crews one day?
The book covers the THETA S, not the newest model, the THETA V. Keep in mind that the THETA V now has 4K video with 4 channel spatial audio on-board and a separate 4 channel spatial audio accessory.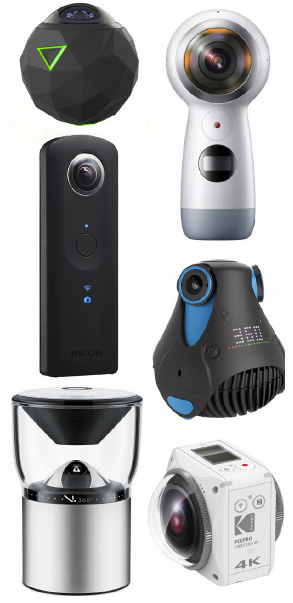 Photo Credit: Michael Wohl
Michael covers all the different ways your audience will view your 360° video, web site, headset, or mobile phone. This is an important consideration for 360° video as spatial audio is only effective with headphones.
In his section on production, Michael includes tips such as, "the sense of immersion in 360° video derives mostly from having your peripheral vision filled while watching the main action." How much do you expect your audience to spin their head? In the real world, you don't move your head more than 5-10 degrees very often, so Michael suggests that in the VR world, most of the action takes place in front of you.
He also includes an interesting discussion on whether you join the 360° video as a participant or not. Another great tip is to use walkie-talkies on the set to communicate with the crew spread out in a 360° radius.
Michael illustrates techniques with both equirectangular examples and VR headset views.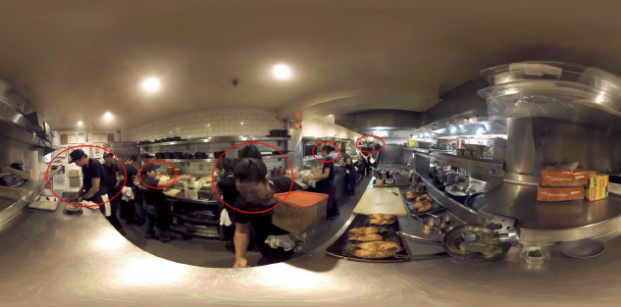 Photo Credit: Michael Wohl
As video can be edited in VR mode with both Adobe Premiere Pro VR Mode or CyberLink PowerDirector, I asked Michael why he chose to use equirectangular mode. He provided a great explanation that can help with video editing as well as communicating with clients:
"while working with footage, using a "VR Mode" view where you can see only part of the image at a time can be helpful, but it's also very important to be able to view the entire frame at once while editing, like in the example you show above, the limited view of the headset/VR mode you wouldn't be able to see the different focus points that I highlight with the circles. Also, for serious people working in 360, it's pretty important to learn how to "read" an equirect and understand how what you're seeing will be displayed for the end user. There are some places where I show both the equirectangular as well as a "headset view," but because you can't pan around an image in the book, I default to showing the equirect."

Michael covers common tools like Mettle Skybox VR Player, plugin to Adobe Premiere Pro that is now free with Adobe Creative Cloud. This is great because the plugins used to cost $180, which limited usage. It's nice to get tips from a professional like Michael.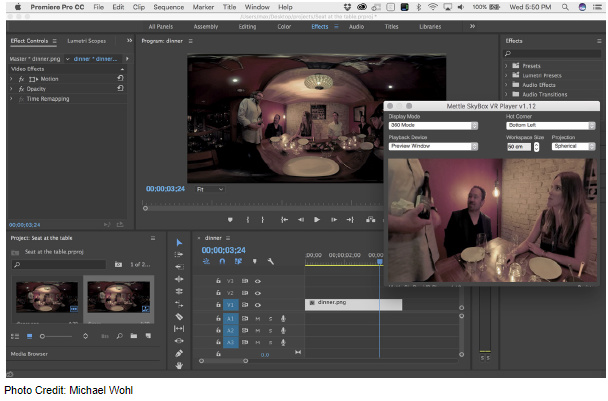 Due to his experience, Michael has a wealth of knowledge on techniques such as fade-out/fade-in for scene transitions as well as "lead with audio" prior to a scene change. There are real gems in here that would otherwise take a long time to learn. He covers the 180° rule of keeping eyelines consistent across edits, match cuts, and split edits. He applies his experience with directional and temporal cuts to 360° video. I learned a lot from reading the book.
Michael also covers several tips specific to the RICOH THETA. For example, he provides a sidebar that explains how to override Apple Photos importer for the THETA S.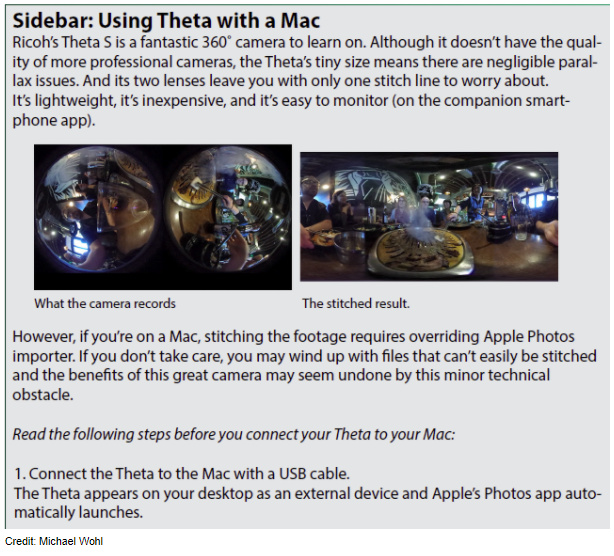 Michael also covers video conversion with the RICOH THETA desktop application.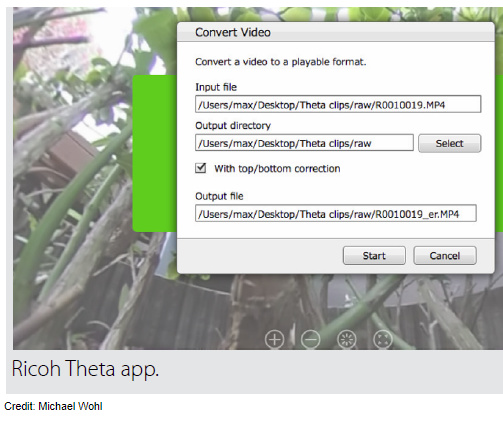 As the THETA V was released after the book publication, Michael doesn't cover new software for THETA V videos, including the RICOH THETA Movie Converter for spatial audio support on YouTube and Facebook. Another useful Ricoh app not covered in the book is the Ricoh Mac File transfer app to move videos over 4GB in size from the THETA to your Mac using a USB cable.
Of course, I didn't expect the book to cover Ricoh software or the THETA camera in detail. Michael created an excellent overview of 360 video cameras and technology, not a specialized how to guide for the RICOH THETA. Dedicated RICOH THETA users will be thrilled with the general tips on production, post-production, and distribution.
Conclusion
The 360° Video Handbook is an excellent book that can improve your video production skills. The author is a professional video producer with decades of tips on how to make great videos. He applies these techniques to 360° video production. The book doesn't have too much information specific to the THETA and the little it contains deals with the THETA S, not the THETA V with 4K video and spatial audio. Several sections on stitching, especially with rigs using multiple cameras are also not relevant to THETA V owners. However, I found it useful to understand the broad overview of 360° technologies and techniques. The quality of writing, organization, and pictures are excellent. The book is enjoyable to read and Michael's personality and view of 360° videos comes through to keep the book fun. At a cost of $19.95 for the PDF version, it's definitely worth it.