I had problems with Mozilla Firefox. Please use a new version of Google
Chrome for your tests. It may help.
i'm having the same problem, but the live mode is on
Do you have firmware 1.82 installed on your camera? if not, use the desktop app.
Does it work with Skype or Google Hangout using the THETA S driver, not UVC Blender? if so, it's a problem with the USB connection, the physical wire, the USB port of your camera, or the computer.
The firmware may be the problem.
Updating firmware (1.82) is OK for me.
Thank you for your success report. I made an error. As you correctly indicated, 1.82 is the version that supports UVC FullHD Blender.
I'll update my post above to reflect this. Appreciate your information contribution to the community.
Hi there, I had done all the things you said were, the camera is in live mode, I had changed the cable, registed the camera with the blender, installed obs and everything is ok.
The fact is "THETA UVC Blender Status:0x800705AA message is appering insted the image, also switched between normal pc webcam to UVC HD Blender and nothing appears.
There is a red light when on live mode (power button).
Can you help me?
What version of firmware do you have on the THETA?
You need 01.82 with the newest application
Did you read through this guide about the new upgrade?
Please confirm you are using a THETA S and not THETA SC. The camera should be black.
Lights should look like this: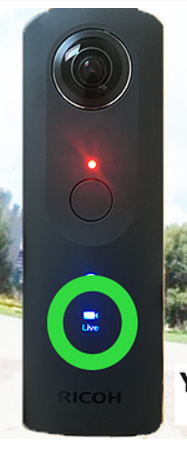 A bit more information that may help.
The error above occurs when the THETA camera is not communicating with OBS. You can replicate this error by completely unplugging the THETA from the USB cable and you'll see the same error.
The problem probably is one of these areas:
camera firmware (current is 01.82)
UVC Blender driver (new one released last month. Now called UVC FullHD Blender)
USB cable physical connection. sometimes changing cable or USB port helps
Also try:
reboot your computer
restart OBS
test it with other webcam software like Google HangOuts to isolate a problem with OBS
test it with THETA S (dual-fisheye view) to rule out the USB physical cable problem
I've tried everything mentioned above. I am able to access the photos and videos taken previously (meaning that the cable is working), but am unable to get the live streaming to work. I have tried MPC Classic, and the same problem occurs. I'm thinking why is the Theta camera not communicating with my computer in Live Streaming, but is able to communicate as a data storage to transfer data to my computer.
I have the same problem with the threadstarter. But I have already tried everything as well as switch to Live streaming mode. The error still remains. I've tried using OBS studio, and can't seem to see the Live streaming video.
Can anyone help?
Please confirm that you are using the newest firmware on your THETA V or THETA S.
List the versions for:
firmware in the camera
Windows version (build number)
UVC Blender version (the one you downloaded from the RICOH site)
The Windows build is 17134.648. The UVC Blender Register version is v2.0.0.
As for the firmware, I've used the Ricoh Theta app version 3.9.1 to try to do the firmware update.it directed me to
https://support.theta360.com/en/download/firmware/s/.
When I used it do the firmware update, everything seems to run smoothly, but the firmware remains at 1.5. I've tried this many times. At first, I thought I had already updated it but when I check again to confirm, I realised that it remains at 1.5.
How do I update the firmware?
Thanks.
Do you have a THETA V or a THETA S?
Is the blue LIVE LED lit on your camera?
If you have a THETA S, you need to upgrade. There is an upgrade firmware item in the menu of the desktop software. This is different from upgrading the desktop app.
Anthony,
Judging from the URL you posted, I'm guessing you're using a THETA S. I just tested updating the firmware on my THETA S. I ran into one or two things that hopefully might help.
I was at firmware version 1.10.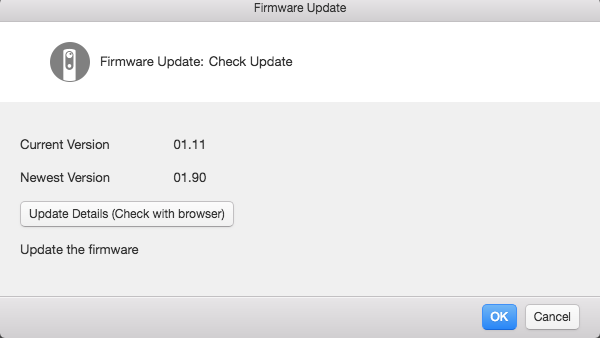 I had to charge my THETA more before I could do the upgrade.
What I noticed was these directions. When you click OK to update the firmware, you're downloading the latest version of the firmware, in this case 1.90, but not installing it yet. Here's the sequence: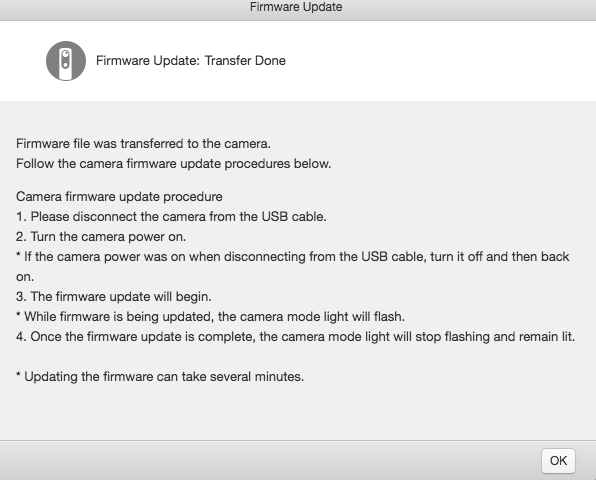 When I disconnected it from the USB cable, the camera turned off. When I restarted it, the camera and video icons on the front were flashing blue. That lasted only about 20-30 seconds.
I connected the USB cable, and checked the firmware status. Updated successfully.
Hope this helps.
Jesse
This is a great tip about the process. He needs at least firmware 1.82 on the THETA S for it to stream. Might as well upgrade to 1.90.
Sorry for not replying earlier. Thanks for all your help.
Jesse - I followed your advice, and it worked. Thanks.
Great news. I'm glad you got the firmware upgraded. Thanks for the success report. It helps the community.
Hey, that's great. Keep us posted on your live streaming work. Would like to hear how it goes.
What are you wanting to use it for?
I'm trying to use it do a live stream for an event. Works on FB. But am trying to do it for Amazon cloud now.
As you make progress, it would be great if you could post what you learn here. I've run into other people who wanted to use Amazon cloud. I believe that the setup for Amazon cloud (as opposed to the THETA) requires some real effort. But I'm not sure, I've never committed real time trying to set it up.