Information translated from the original Japanese by the Unofficial Guide. Original article by Katsunori Takamatsu ("Wackys"), posted in 360 Worlds on April 21, 2017. 360 Worlds tagline is "Covering topics on 360 panaromas focused around the RICOH THETA."
---
Information on the new product we've all been waiting for!
A new model from the original 360° camera "RICOH THETA" series compatible with 4K movie shooting will be exhibited for the first time at the NAB show. (NAB Show 2017 Apr 22-27, Las Vegas)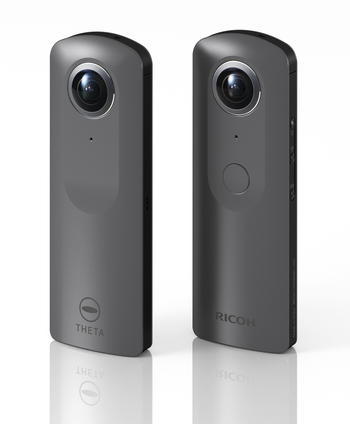 Official announcement from RICOH here and here.
Product Overview
RICOH THETA product series
Official name: TBD
On sale: Scheduled for 2017
Main Features
Support for 360° high quality 4K 30fps video recording

Built-in 4ch microphone, spatial audio recording linked with 360° video possible

Support for 360° 4K live streaming

Support for functionality expansion by dedicated expansion application (Scheduled to be equipped with Android base OS)

The specifications, appearance, etc., of the above products are not final decisions.
Wait, what!?
It's easy to get excited about the 4K video functionality, but there are other new functions that are supposed to be extremely cool!
Support for 360° high quality 4K 30fps video recording
The current flagship model "THETA S" was released in 2015. I am using it as my main 360° camera regularly for good operability and high stitch accuracy. (I own two.) However, he 1920 x 960 (2K) for video resolution is not enough at all, to be honest. So I basically don't ever use it for video. And nowadays there are more and more models out there with 4K video.
Are we getting 4K? That was in 2016. And was was announced was the "THETA SC." Honestly, a lot of people were disappointed. (I was one of those people.) I felt maybe that that shape (design) and doing 4K video was probably quite difficult. But in the pictures for this new announcement, the shape is nearly the same! I used various 360° cameras, but ultimately this shape is the easiest to use!
The actual resolution has not been announced, but 4K = 3840 x 1920 probably. In that case it will be 4x in pixels. The frame rate is 30 fps. I think it will depend on the exact specs but this should be enough.
Built-in 4 Channel Microphone and Spatial Audio Recording Support
Although there are many 360 degree VR images around the world, the sound associated with the 360 media is mostly stereo. This limits the VR experience. For a VR experience to be immersive, the sound needs to move with the movement of the field of view. This is impossible with 2 channel stereo recording.
Ambisonic (*) format is currently the main way to handle 360 ° video spatial sounds. This is used by places such as YouTube. To get this effect, it was necessary to prepare a separate microphone for recording spatial sounds.
However, the new THETA has built-in 4 channel microphone. With the new feature, it is possible to record spatial sounds linked to 360 ° motion picture.
Using the THETA alone, you can now take VR images with even more immersion.
See this example added by community.
Camera Functionality Extension with Specialized Extended Applications
I was surprised that the camera internal OS appears to be based on the Android OS.
With this as a base, it appears that specialized applications and functions can be installed!
This is something that other companies will be hard pressed to imitate.
What's the Purpose of Extensions?
Until now, in cooperation with the smartphone application, various shooting functions were possible. Will it be possible to expand the functionality of the THETA itself?
This developer opportunity is unique to Ricoh who provided API and SDK for developers. THETA's superiority will become increasingly important.
(*)link added by community