We tested the free Single Lens Shooting Plug-in with the RICOH THETA Z1 for inspection of the undercarriage of used cars.
The RICOH THETA plug-in works great.
Resolution and detail are fantastic with the 180 degree view of the plug-in.
Moving Images from Camera to Laptop
The single lens images are saved to a folder inside of the Z1 called, SingleLensShooting. In the screenshot below, I simply connected the Z1 to my Windows 11 laptop with a USB cable, then copied the images to a folder on my Windows laptop.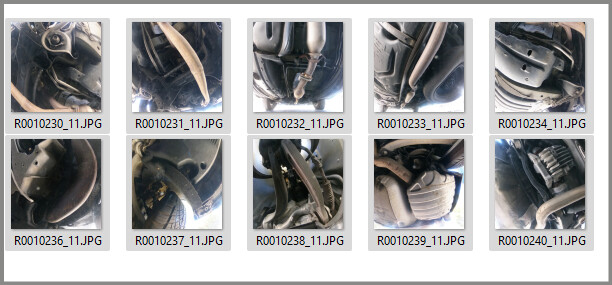 Taking Photos
We used a RICOH THETA Z1 with the TH-3 hard case to protect the lens. All pictures are taken from within the case.
Using a monopod, we placed the camera under the car.
You can test different workflows to get the most efficient number of shots.
Camera Setup and Plug-in Installation
With the RICOH THETA Desktop app installed on a Windows or Mac computer and the camera connected to the computer with a USB cable, press the install button (unofficial community-built store shown)
With the plug-in installed, you can either start the plug-in from the the official mobile app or use the buttons on the body of the camera.
Press and hold the mode button to put the Z1 into plug-in mode.
Press the shutter button to activate the plug-in.
With the camera connected to a mobile phone (or laptop) with WiFi, you can show the web app for the single lens shooting plug-in.
If you're using a browser, go to http://192.168.1.1:8888 (camera needs to be connected to mobile phone with WiFi)
The browser GUI also also allows adjustment of the settings of the camera. I'm using a 1:1 aspect ratio to get 180 degrees.
Examples
This is a zoom and crop of the shot above.
excellent view of the tire area under the car.
Zoom of shot above.
Zoom of shot above.
Get Plug-in for Free
The plug-in is developed by RICOH and available for free. You can get it from the unofficial community store below.
Or, you can grab it from the official store. The community store and official store link to the same plug-in (stored in the official store).