Yesterday, Google announced that Daydream View will be available in stores on November 10th.
You'll still need a Daydream-ready phone. The Google site lists only the Pixel as compatible with Daydream, though that number should increase soon. Though not on the Google site, back in May, PC Magazine reported that the ZTE Axon 7 would be Daydream ready.
As I don't see any Daydream-ready badges on the ZTE Axon 7 site, I suspect that Google may have increased the specs to be Daydream-ready.
The key thing which makes me skeptical that the ZTE Axon 7 isn't Daydream ready is the Google list of compatible phones.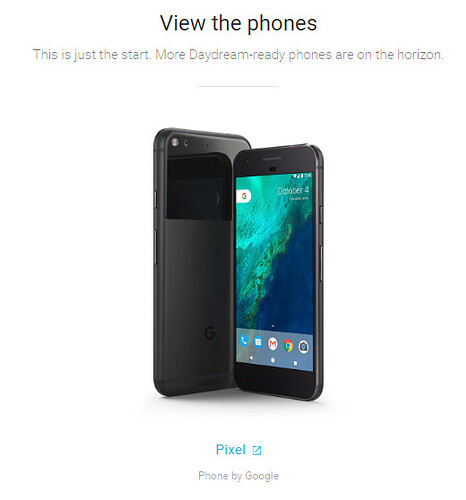 The site looks pretty lonely right now with just the Pixel phone. Too bad since the ZTE Axon 7 cost a tad under $400 compared to $649 for a Google Pixel 32GB and an heart-stopping $769 for the Google Pixel XL 32GB.
I'm personally using a $200 Moto-G and was hoping to get the cheapest Daydream phone as a replacement. Looks like I may just wait.
The $299 headset from Microsoft looks interesting and may be better for my testing, especially since I'd need to pay $649 for the Pixel plus $80 for the headset. That's $800 with sales tax.