Product Review: Cyberlink PowerDirector 16 Ultra
From Cyberlink
"With an intuitive interface and an unrivaled feature set, Power Director delivers high-end performance editing for both standard and 360 video. Built to be flexible, yet powerful, Power Director remains the definitive video editing solution for anyone, whether they are beginners or professionals."
Theta360.guide reviewed the previous version earlier this year. At a glance, the interface for Power Director 16 has not changed radically, so there is not a steep learning curve. However, this new version handles 360º video editing much better, and as you boot up the application, it reminds you multiple times of the new 360º editing features. Rendering speed, stabilization, and seamless titles are notable upgrades.
Rendering time, in particular, is extremely fast, which is an advantage to users working with longer files or multiple files.
Overall Impressions
Power Director 16 is intuitive, and you can get up and going with the basics quickly, but it's obvious that you can go much deeper with each task. For the price, you get incredible power and flexibility to make your 360º videos from RICOH THETA into something really fun and custom. Using PowerDirector 16 with a RICOH THETA to create fun and interesting 360º videos is highly recommended.
Rendering
Rendering times with PowerDirector 16 are fantastic. From Theta360.guide community user @Svendus:
The CyberLink PowerDirector 16 (64-bit) gives really awesome short rendering times that no other software can establish. We are actuarily under 1:1 in rendering speed on 4K Video 1 hour in 45-50 minutes on a 8 core Intel(R) Core™ ¡7-5960X CPU @ 4.20GHz 3.00 GHz machine.

Many cameras, including the RICOH THETA V, require a stitching-converting desktop application to convert dual-fisheye 360º video to equirectangular format. However, the desktop applications today are only 32 bit and it takes actually ages to stitch and convert large projects to 4K equirectangular .mp4 even if you have a beast of a 16 core computer.
Stabilization
Another improvement in PowerDirector 16 is that software stabilization for 360º videos has been added. The RICOH THETA desktop app can do stabilization and so can other scripts but if you're already editing the 360º video, why not take care of it right then?
If you find that the starting view of your 360° video clip is not facing the direction that you want you can use the 360° Start View Setting feature to change it. In the Edit module, select a 360° video clip on the timeline and then select Tools > 360º Start View Setting.
You can change the direction of your camera either by clicking and dragging your mouse in the preview window, using the navigation controls in the top left corner of the preview window, or by using the X, Y, Z rotation controls.
Select your 360° video clip on the timeline and then click on Fix/Enhance. Enable the Video Stabilizer option.
This tool is ideal for correcting videos taken without a tripod or recorded while moving. Once enabled, drag the slider to increase or decrease the level of correction. PowerDirector's 360° Video Stabilizer employs motion compensation technology to correct shaking in videos so your video won't be distorted or degraded.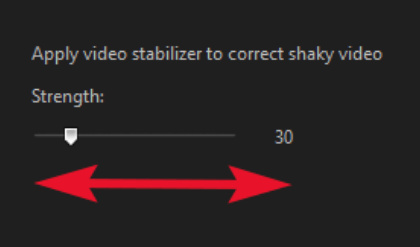 Seamless Titles
Adding titles to your 360º video is quite easy. Enter the Title Room and there are already 360º titles that nicely wrap around the 360º photosphere.
To customize your 360º titles, enter into the Title Designer. In "Basic" mode you can edit the text, adjust the font, add a shadow or border, and more.
Sound and Color
Most videographers state that audio is at least as important as visuals. Audio Ducking is now automatic, and it's a important addition to PowerDirector 16. Select which sound you want as "background" and choose the sensitivity, the level of ducking, and the fade out and fade in times. Very useful.
There are also Look Up Tables, which are color adjustments that can be applied to clips. This can make the clips look more similar if they are shot from different cameras, you can tweak them for yourself as well with a Color Matching tool.
A Note On Live Streaming 360º 4K Video
PowerDirector 16 is able to Capture from a Webcam and it should be able to import live streaming from the RICOH THETA V. However, at the time of this product review, using a Windows 10 laptop that can handle 360º 4K video streaming using OBS, it appears that PowerDirector cannot capture the live stream. The attached RICOH THETA V is detected and displayed as "RICOH THETA V" but the live stream does not appear within PowerDirector.
---
Minimum System Requirements
OS: Microsoft Windows 10, 8/8.1, 7 (64 bit OS recommended)
Processor (CPU): Intel Core™ i-series or AMD Phenom® II and above
Graphics Processor (GPU): Standard Video: 128 MB VGA VRAM or higher
Memory: 2GB required (6GB or above recommended)
Hard Disk Space: 7GB for product installation