The RICOH THETA has been used to take pictures of fireworks, capturing beautiful images in 360 degrees. Night time conditions present some challenges. I have gathered some helpful tips and examples to help with using the RICOH THETA to photograph fireworks.
TL;DR - Trying using manual settings with ISO 100 and shutter speed 1/1.3, adjust based on your local conditions.
Fireworks with RICOH THETA can be as good as this:
May 14, 2017, Penghu Ocean Fireworks Festival, Penghu, Taiwan, by Hakuno Nekomata
RICOH THETA settings: ISO 100, shutter speed 1
Or with Auto settings, no tripod, relatively far away, results will be as plain as this:
July 4, 2016, San Francisco, California, USA, by Jesse Casman
RICOH THETA settings: Auto
Tips for taking good fireworks pictures with THETA
Some of the best tips for improving fireworks pictures are not specific to RICOH THETA. Ultimately, the THETA is a camera. Most of the things you would do with a normal camera apply.
Experiment with your settings to get the look you want.
Pick a good location ahead of time and get there early to get a good spot. Think about background and if you want the people around and in front of you as part of the shot.
Shoot into the eastern sky if you want a darker sky.
Shoot most of your shots at the start of the show to avoid the smoke and haze.
Specific to THETA
Make sure your THETA and your phone are fully charged.
Set Sleep Mode to OFF.
Use a tripod. As usual, be careful with winds or with people knocking it over.
Consider setting the THETA to interval shooting, so that you take pictures continuously throughout the fireworks show.
If you do not do interval shooting, practice timing your shots when you hear the fireworks being released.
Set the ISO to 100 to 200.
Set the shutter speed to 1 to 1/1.3.
Set the ISO to 100 to 200
Set the shutter speed to 1 to 1/1.3
Reference
RICOH THETA S User Guide, Checking and Changing the Shooting Conditions
More examples
Posted to Facebook, July 5, 2016, by Larry Gibson
RICOH THETA settings: ISO 100, shutter speed 1/1.3, custom white balance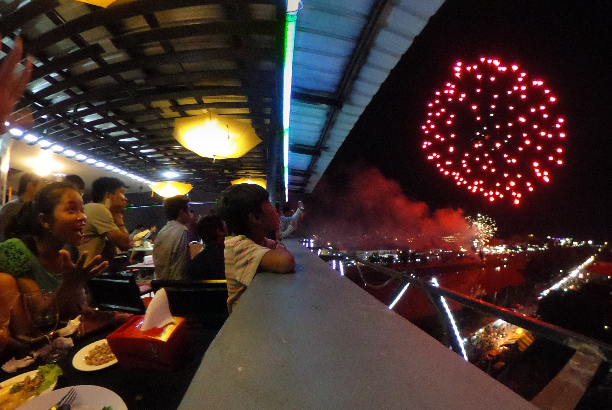 (click image for full 360 image hosted on theta360.com)
THETA VR Image Contest 2016 winner, "What are you looking at?" category
After dinner fireworks, Art, "They were impressed"
Quick Note on Video
This post focuses on still images, since video mode is automatic only. For video, you can only choose between two resolution sizes: 1920x1080 or 1280x720. I have taken video of fireworks and enjoyed the result. But I wouldn't call it high quality.