Not sure if people are aware of the Apple Lightning to USB 3 adapter, but here goes:
I've been thinking about the biggest drawback for me, which is the small onboard storage of the Theta V. 19gigs of space fills up quickly with 4K video. If I use the mobile app on my iPhone 6 to transfer the video files via the Theta app, it results in long transfer times since it will be stitching the files first.( And of course, if using the app on any device before the iPhone 7, the video would be down-rezzed to 1080p.)
So, my "new" possible work flow when traveling will be to use the Apple Lightning to USB 3 Camera adapter, which will allow the iPhone or iPad to see the Theta and allow me to import the original raw file directly to the Photo Album. I can then choose to delete the files off the Theta and freeing up some space. (my iPhone 6 won't play the 4K file, but it is safely stored for later retrieval on my Mac)
Unfortunately, it seems the iOS Theta app won't allow me to process the files if imported this way.
The Lightning to USB 3 adapter will require a power source to avoid the "device draws too much power" message either with a battery or the AC adapter.
A laptop is ideal to do this, but this is my next best thing for traveling light.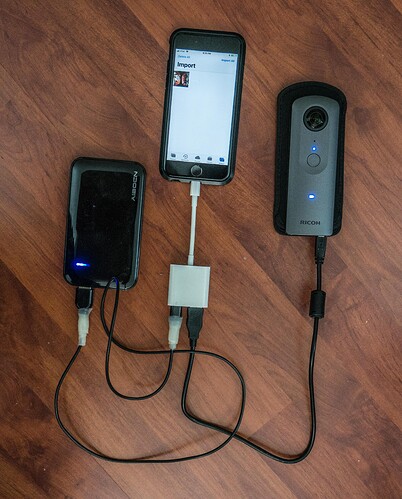 One more thing…it would seem that this setup should allow LiveStreaming via the iPhone, but Apple or YouTube will have to support this somehow.