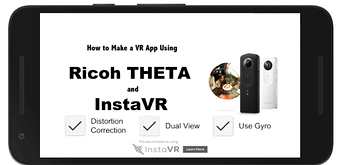 We're doing the next RICOH THETA meetup on Stanford campus Tues, Feb 28. Venture-funded InstaVR will be talking about making money with VR, and it should be a fun evening with real world examples and lots of great use cases.
Here's a related Blog post from InstaVR on how to use their product with the RICOH THETA. Nice detailed step through, showing free signup, transferring files, branding your app, publishing to multiple platforms and lots more.
Example YouTube tutorial here, more included in the full blog post.