Registrations and app submissions have closed. Please look back here for information on the winners!
---
The "RICOH THETA X IoT DEVELOPERS CONTEST" is a cool opportunity to work on an IoT project incorporating RICOH's fun, low-cost 360 degree camera with a chance to win $45,000 in prizes. Some of the contest rules are hard to follow, including having the prizes listed in yen. So we've gone through the Sign Up process and simplified it for you. This is very unofficial but hopefully useful.
Prizes
Grand Total in $45,000 for 9+ different prizes
Note: Prizes are calculated in yen, so the dollar amount is rough, based on the exchange rate at the time the prizes are announced.

First prize: $9140 to only one winning entry
Section prize: $4570 each to three winning entries
The 80th Anniversary special prizes: $2740 each to five winning entries
Honorable mention: $910 to as many entries as the judges see fit
What Can I Submit?
New IoT apps that link RICOH THETA with sensors, and provide data online
Gadgets and apps that integrate RICOH THETA
What are the Judging Criteria?
Overall, the contest is focused on IoT development that is Innovative. There are three more specific criteria:
Creativity (originality)
Future-facing (potential, extensibility)
Ease of use and practical value
What Do I need to Submit?
Explanation of your app or gadget (up to 500 words)
Photos (up to 5)
Video (up to 2 mins)
Simple manual (How to operate applications and the explanation of the expected behavior)
URL where published (Google Play, App Store, Windows Store and/or other websites)
Types of APIs utilizedTypes of Gadgets utilized

Note: If your submission is a physical gadget, you need to send the gadget to RICOH. Gadget submission from the US must be received by Wed, September 7, 2016.
Also note: Physical gadget submissions will not be returned.
To Submit Your App
To submit your app you need to go to entry page at: https://entry.contest.theta360.com/info
Click the Login button at the top right and use your contest username and password to login. You'll get a "Signed in Successfully" message. Then you'll need to click on "Entry" in the main menu. It's maybe not super obvious, so a screenshot is included here: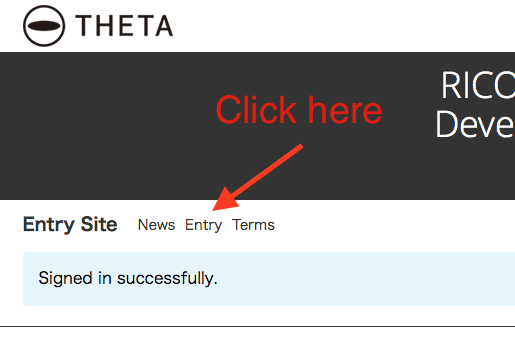 That will get you to the real submission page with a clear "Apply to the contest" button.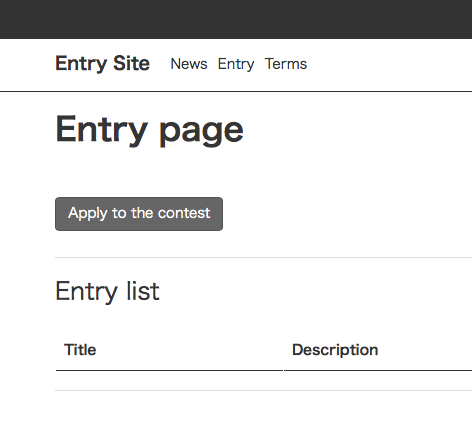 Good luck!
Sending Gadget submissions
If you are sending in a physical gadget, the final deadline and submission process are slightly different.
Submissions from "abroad" (any place that's not Japan) must be received by Wed, Sept 7, 2016 and sent to:
Gadget Entry
Attn: Secretariat for RICOH THETA x IoT Developers Contest
YRP Ubiquitous Networking Laboratory
Daiichi Seijitsu Bldg. 9F, 2-12-3 Nishigotanda, Shinagawa
Tokyo, JAPAN 141-003
---
Registration [archived]
Main Page for summary of rules and signing up
Important Dates

Must register with the contest by Aug 10, 7:59am, California time, but…
Must submit your final app by Aug 31, 7:59am, California time

Any physical gadget submission must be received in Tokyo by Wed, Sept 7

Awards ceremony is Nov 7
Two types of registration
Response can take up to 2 days. You can sign up for the RICOH Cloud API (beta version) at the same time. Some details here.
This takes you to a "Unified Communication System" webpage to create an administrator account for managing multiple API keys.