Main Dates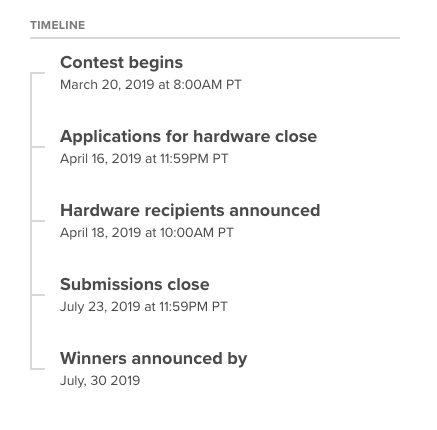 If you're not sure where to start, or have been interested in THETA development but just haven't quite gotten started before, here's a great chance to join the plug-in community. Talk to us! We're looking for a wide group of people with different skills and interests:
Developers with a THETA V and Android development skills

Developers who don't have a THETA V yet but have Android development skills

"Modders" or Power Users who are not afraid of gadgets, and have experience with 360 cameras

360 Camera Users, who can provide expertise and creative ideas for what plug-ins could do
No THETA V? No Problem!
You can Apply for Hardware - Deadline is April 16
How to get started?
First, register with the main contest hosted on Hackster
Second, check out some of the excellent projects available to use as examples
Third, tell us about your ideas, we can help you head in the right direction
Come join the plug-in community!