Ricoh has announced the full specification of the new RICOH THETA will 4K video and spatial audio. The camera can be connected to phones and computers with both WiFi and Bluetooth. The camera is also highly expandable.
The RICOH THETA V ("vee") has a new image sensor and a Qualcomm Snapdragon main processor. High-end technology for exposure accuracy and white balance was adapted from Ricoh's digital SLR and GR lines. Effective megapixel output is approximately 14.0 megapixels.
The THETA V supports 4K video at 30 frames per second at a resolution of 3840 x 1920 pixels. The camera now supports both H.264 file format as well as the new H.265 video compression standard. At the time of release, the dedicated application only supports H.264. The new H.265 is supported for future applications and developers.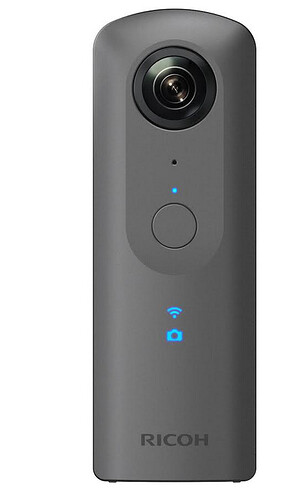 The camera has a 4-channel microphone that supports 360-degree spatial audio. There is also an optional accessory called the 3D Microphone TA-1 that will allow users to pick up natural sound at both low and high frequency.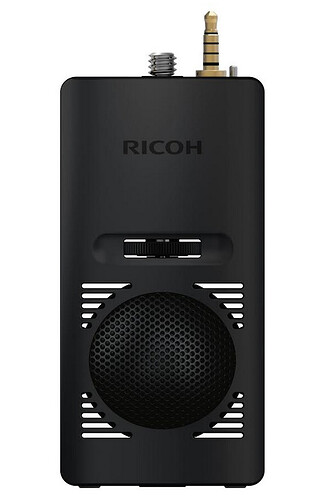 Wireless transfer speed is 2.5 faster than the THETA S. The THETA V also has a new Remote Playback feature to allow projection of 360 images directly to a large screen monitor. The Remote Playback feature will need to be added in as plug-in to the internal Android-based OS inside of the THETA V.
A plug-in for external memory recording is under development. General developers should be able to get access to the OS in the future.
4K 360 live streaming is now supported.
Other features
Ultra-high shutter speed of up to 1/25000 seconds
Shooting at ISO3200 (using manual mode with still image)
Internal large capacity memory of approximately 19 GB which can hold around 4,800 still images
THETA+ application can edit still images and export image data files for printing
Improved accuracy for top/bottom correction processing using a combination of a newly equipped gyro sensor and internal acceleration sensor
The minimum interval with interval shooting has been reduced from 8 seconds to 4 seconds, approximately half the time of the THETA S
Using an optional underwater housing, the THETA V can operate at a depth of 30 meters
EDIT: Available now!
According to the Amazon link, you can pre-order right now, and it will be available September 24, 2017.
More news: