theta360.guide presents the RICOH THETA VR Lounge Live starring the RICOH THETA V 4K live streaming into an HTC Vive headset.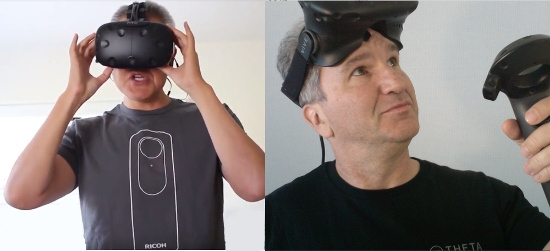 Learn The Top RICOH THETA VR Live Tips
Camera placement and video stream orientation
Where to get the required drivers and software
Vive base station setup
Secrets gained over the last 2 years of live streaming the RICOH THETA
Experience
Head tracking of 4K live streaming video
Single channel audio
Controller use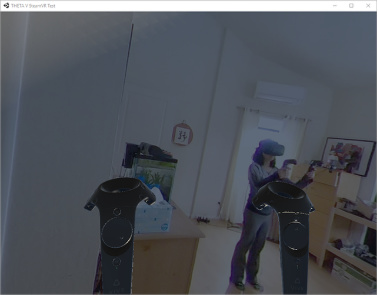 Discuss
Development tips

How to display video stream inside of Unity sphere
How to solve "mirroring" problem of video stream
Single channel audio streaming

Future innovations

4K live streaming over WiFi
4K live streaming over the Internet
Spatial audio
Location and Time
June 19 to 20th at DeveloperWeek New York
Jesse will be inside of the Ricoh booth.
Stop by the booth.
Gear
We will have a VR lounge corner with gear you can check out and experience.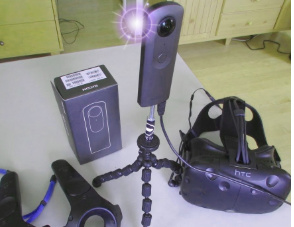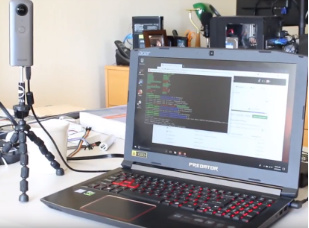 RICOH THETA V streaming 4K video
HTC Vive headset displaying 4K video with tracking enabled
Functional controllers
Acer Predator Helios 300 with GTX 1060 GPU
Laptop cooler
Tripods and stands
People
The co-founder of theta360.guide, Jesse Casman will be at the Ricoh booth and operating the HTC Vive demo. He helps Ricoh work with hundreds of VR/AR companies. For the last three years, he has been at the forefront of 360 VR/AR camera innovation. Stop by and discuss the future of VR.
TK Tone will also be speaking at the event and will be in the booth when he's not presenting or in meetings.
---
FAQ For Live VR Lounge
How was this built?
The test was done with Unity and SteamVR.
Can I build it myself?
Step by step instructions are here
What other software do I need?
If you are using Windows 10, you will need RICOH THETA V UVC driver, version 1.0.1 or higher.
https://theta360.com/en/support/faq/c_06_v/304_1/
How difficult is it to stream the camera into the headset?
You need to have basic development experience. It will take a novice developer 30 minutes. The THETA V is a standard webcam texture in Unity.
Is it easy to get the headset tracking working?
Yes. The SteamVR assets in Unity handle all of the headset tracking and controls.
Will the THETA V work with Oculus Rift?
Yes. It should work, but we have not tested it.
Do I need to do anything special for the THETA V beyond a simple webcam texture?
Yes. there are two techniques you need to implement:
To apply the texture to the inside of the sphere, you need to flip normals on the sphere.
After you flip normals on the sphere, the image will be mirrored. To fix this problem, you need to adjust the scale to negative values.
This document provides more information.
Will this work with a mobile phone?
It may work with Android, but we have not tested it. The THETA V streams using UVC 1.5. There appears to be an Android driver that works with UVC 1.5, but we have not tested it.
THETA LIVE from Plannet Associate can stream the THETA V from an Android phone. Information about UVC 1.5 support on Android is available here.
How do I stream audio to the headset?
Single channel audio works. Spatial audio does not work. A single THETA V microphone will appear as a standard audioSource in Unity. After you grab the THETA V as the device, you can use audioSource.Play() to play the stream.
Can I see the example script?
How did you project the webcam texture to the inside of the sphere?
I created a sphere in blender then used blender to flip the normal perspective. You can download the sphere here:
What industries are using the THETA V with headsets?
Large companies around the world are testing the THETA V for telepresence.
Example industries:
Civil engineering
Industrial robotics
Experiential tours
Aerospace
Can I Stream Wirelessly?
Ricoh has announced WiFi 4K live streaming coming as a plug-in. Once the plug-in is released, we will look into ways to stream over WiFi.
---
Videos