Let me give you some additional info so you don't waste too much time. I heard from a reliable source that some, but not all, USB OTG Ethernet adapters work. I have not tried this myself as I have a large pile of gear in my office that I need to sort through before I find my USB Ethernet adapter for testing. I just saw the adapter last month. Sigh… I really need to get things organized.
Although the Automatic Face Blur plug-in does provide an example of using the OSC API to take a picture using the OSC API to send an HTTP request to an internal web server, it's a bit of a convoluted process and the example may not be the best starting point for you. Though, the good point is that you can start with a working configuration and then chip away at the modifications.
The interesting thing with the Automatic Face Blur example is that it does show the LivePreview stream in a web browser. The example below is using Wi-Fi, not Ethernet. I have the camera connecting to my Internet router as a client and the router is assigning the camera an IP address. It seems that this could work with Ethernet and you assign the camera a static IP address stored in the DHCP table. You could try adding the small code to save the image as dual-fish to the existing Automatic Face Blur example, then delete the face detection and blurring parts. Use the dual-fisheye code as a reference. The size of the dual-fisheye image is different.
the normal equirectangular has a resolution of 5376x2688. You need to set the dual-fish image to bigger size of 5792x2896.
 mParameters.setPictureSize(5792, 2896);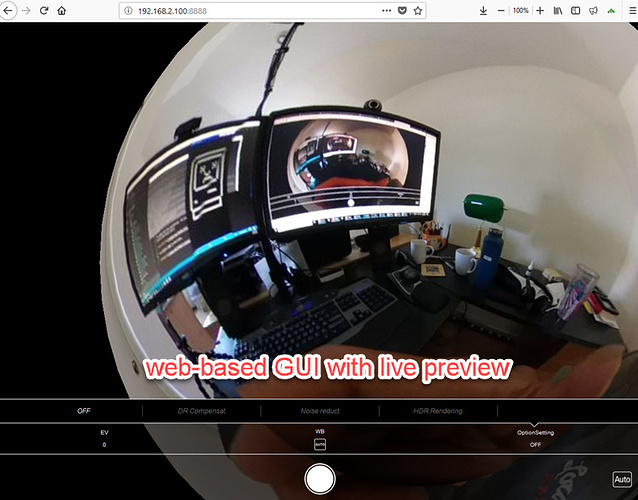 The good part about the Ethernet OTG is that it should just work, assuming that the adapter works with the THETA V. By this, I mean you don't have to write any code to support Ethernet. It's part of the Android OS and should just work.
There are many articles about connecting Android to OTG Ethernet online.
https://www.wirelesshack.org/how-to-connect-a-android-to-wired-ethernet-connection.html

I just ordered this OTG Ethernet adapter listed in the article to test. I do not know if it will work, but the AX88772 chipset seems to be common and cheap at USB $13.89 with free shipping. If it works, I will post a report