Join us on November 16, 2pm PT for a live streaming event in 360!. We will use Wi-Fi streaming from the RICOH THETA Z1 and the FlowTours HDR Wireless Live Streaming Plug-in. Our special guest Laszlo Vargas, CEO of FlowTours will be able to answer questions live via chat.
Add this to your calendar now!
Live Event! 360 Video Live Streaming Trends - Nov 16, 2pm PT - YouTube
November 16, 2pm PT for a live 360 event on the future of live streaming with 360 cameras.
Jesse Casman and Craig Oda of theta360.guide will discuss RICOH THETA 360 video live streaming trends. This is a QA and discussion. Join us live as the incoming questions will be addressed first.
Is 8K live streaming possible?

isn't there a compression limitation with hardware compression with the H.264 and H.265 compression?

Can I stream spatial audio?
Can I create a larger virtual space with many cameras and switch between the cameras?
What's involved in using external microphones from the camera, both direct from camera and using OBS?
Is it possible to access external microphones directly from the Z1 plug-in? What about the X?
what is the latency on YouTube Live?
what are my options to reduce latency?
Is it possible to reduce the latency with RTMP?
How do we stream with WebRTC?
Is this what the Dolby.io system uses?
Did Dolby acquire Millicast?
Is it possible to stream with SRT?
Is it more popular to use humans or robots to manage the live stream?
How can I apply AI processing to the live stream?
Can I use Tensorflow?
Can I use OpenCV?
Can I use VSLAM on the live stream?
What's the power requirement for long-term streaming?
What's the meaning of the thermometer warning icon on the OLED of the Z1?
Can I stabilize the live stream when I'm walking?
Can I access the orientation sensor data of the camera while I am live streaming?
Can I adjust exposure compensation during the live stream when I am moving between light and dark areas such as a bright music stage to the audience?
Can I use H.265 compression for streaming?
Does YouTube support H.265?
Is there a noticeable benefit in using H.265 versus H.264?
What bitrate should I use in different streaming conditions?
What framerate should I use? Is there a difference between 24fps and 30fps from an artistic perspective?
Will lowering the framerate to 24fps actually help stuck frames or frame resolution in actual practice?
What are keyframes in the video live stream?
Can I stream in dual-fisheye?
Can I connect the RICOH THETA to a Raspberry Pi and then use the Raspberry Pi to relay the stream over the network?
Can I power the RICOH THETA Z1 indefinitely from a Jetson Nano or Raspberry Pi?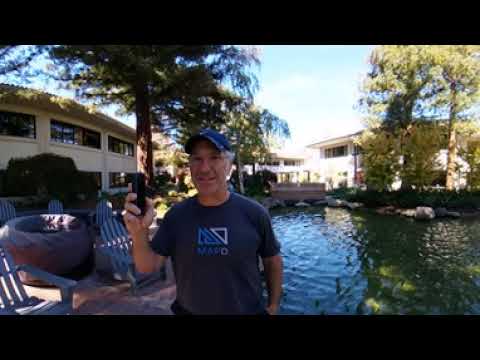 this live event is broadcast to YouTube using FlowTours and their HDR Wireless Live Streaming Plug-in. The RICOH THETA Z1 will be connected with Wi-Fi to the Internet using client mode. We will stream in HDR equirectangular at 24fps, 16Mbps bitrate
Previous event test run 360 Video Live Streaming Trends - Entertainment, Art, Robotics - YouTube
---
Event Settings
Camera: RICOH THETA Z1 at 5GHz Wi-Fi
Video Format: HDR Equirectangular
Encoding: H.264
Bitrate: 16Mbps, constant bitrate
framerate: 24
exposure compensation: 2
keyframe interval: 2
plug-in state: streaming only (no recording inside of camera)
audio bitrate: 128 kbps
audio sample rate: 48000 Hz
max buffer items: 200
worldlock Stabilization: no