I have recently started to get more interested in 360° image use in museums. There are big projects out there that use high-end, expensive technology. They want to show off art in high resolution.
Google Arts and Culture, for example, is an ambitious effort to "…take a virtual tour of some of the world's greatest museums and heritage sites." There are over 2,220 sites listed. The museum projects are based on Google Street Views to navigate within museums.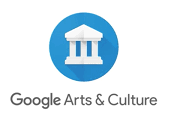 ---
There's also the very impressive Met 360° Project by the Metropolitan Museum of New York which includes 360° tours of the Great Hall, the Temple of Dendur, the Charles Engelhard Court, the Arms and Armor Galleries, and more.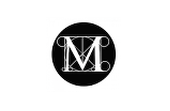 Google and The Met are just two impressive examples of 360° technology being implemented in museums.
Low-cost Equipment?
Using these types of projects got me curious, however, about what's possible with low-cost equipment like the RICOH THETA. In concept, a THETA is most likely combined with Google Street Views and viewed in Google Cardboard. The THETA is mentioned prominently on Google's site for building 360° street views, and it is the only 360° camera that Google supports for 360° video.
But there are multiple different ways you could use a THETA and build virtual tours that immerse views in museum exhibitions.
In particular, if you are showing things and places – as opposed to showing high-rez details of a famous piece of art – a low-cost 360° camera may be an excellent option.
Some Examples
The Museum of English Rural Life (MERL) wanted to make the museum more accessible to those with Autism Spectrum Disorder (ASD), allowing them to familiarize themselves with the museum before they arrive.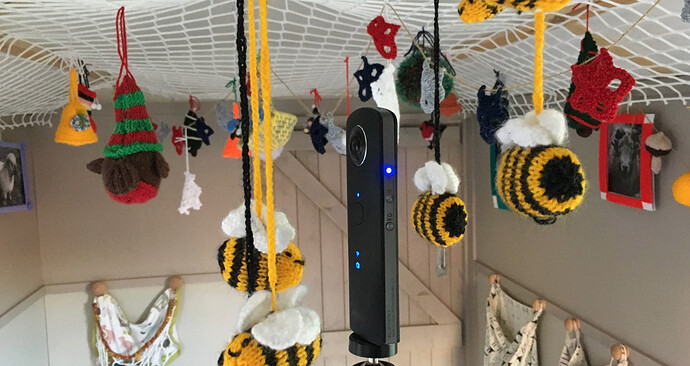 They found out that (1) Google Street Views can be used indoors, (2) you don't need to hire a Trusted Pro, (3) that a 360° camera works better than normal images, and (4) ultimately, once you get started, it "isn't rocket science."
So the technology side is not too daunting, but there were still plenty of issues. Taking pictures with or without the photographer in them, including or not including other museum visitors in the pictures, handling two levels (Ground and First Floor) in Google Street Views, appropriate distance between photospheres, and much more.
Adam Koszary, who manages the Arts Council England digital project between Reading Museum and the Museum of English Rural Life, believes the setup full accomplished its goals:
The aim of publishing our museum on Google Streetview is to prepare people for what to expect at the Museum. It definitely accomplishes that.

We considered photos and video, and have these options available too, but nothing beats Streetview for giving the full picture. People already use Google and Streetview, and it meant we could also embed the tour on our website.

With our planning, testing and re-runs the whole process probably took us three full days of work. If you know what you need to capture, organise a day for photography and dedicate the day to editing the photos then you could easily get a museum the size of the MERL done in a day's work.
Here is Koszary's full Explanation of how MERL built their site using a RICOH THETA S and Google Street Views).
---
Another example is the Waterloo Region Museum. It is the largest community museum in Ontario, Canada, with two indoor museum galleries and a 60 acre living history exhibit called Doon Heritage Village, the Waterloo Region Hall of Fame, and a War Memorial with a virtual list of the names of all those from Waterloo County/Region who have given their lives for their country. You can walk around inside the Waterloo Region Museum's Main Gallery. This short taste of the museum's wealth of interesting exhibits was built with inexpensive equipment using THETA and theta360.com.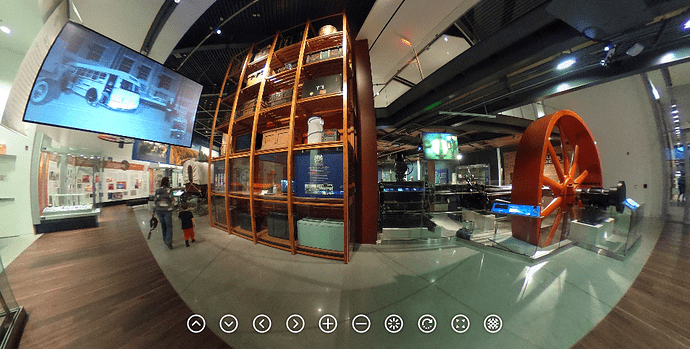 Types of 360° Museum Tours and Apps
Locally, in San Francisco, I have used the SFMOMA mobile app (iOS only). It does not use 360° images; it has focused more on location-based audio tours, so that the tour is specific to the exact object d'art that you are standing in front of. I can see the potential for creating a 360° tour that follows a floor plan very specifically.
Using the SFMOMA app made me realize there are many different types of tours and apps that could be built using 360° cameras.
The Center for the Future of Museums at the American Alliance of Museums has written about "Museums and the matrix of place-based augmented devices" (Museum Magazine, Sept/Oct 2017). The article is based on their TrendsWatch 2016 report (complimentary – registration required – download available here). Starting from page 23, there is extensive information AR/VR museum applications.
Based on the Mooshme Matrix categories ("Augmented Wearables and the Future of Museums") they split the various types of apps into the following four categories:
Me/Here
The Art++ augmented reality app at the Cantor Arts Center, Stanford uses image recognition to create a "digital halo" of supplemental multimedia information around a photo, painting or sculpture. The project was made possible by support from the Brown Institute for Media Innovation, a collaboration between Stanford and Columbia University dedicated to innovative storytelling.

Me/There
The Courtauld Gallery in London is one of the earliest adopters of WoofbertVR, an app that will profile collections from around the world. The Courtauld tour gets an extra popularity boost from narrator Neil Gaiman, who is also an investor in Woofbert. Woofbert represents a collaboration between technologists Microsoft is testing proof of concept for RoomAlive—the first working holodeck.

We/Here
While Hololens (a device that provides shared AR experiences) is not yet commercially available, in March 2015 the Mondrian 3D Museum provocatively tweeted "Meeting with @microsoft about #hololens #museums #3D, looking forward to making next generation of #education and #art in #realmuseums." Stay tuned?

We/There
The Dallas Museum of Art (DMA) organized a performance by artist Jon Rafman that took place in the online virtual world Second Life (SL), in conjunction with the exhibit "Mirror Stage: Visualizing the Self After the Internet." DMA audiences were invited to log in and attend, via avatar, a tour of hidden corners of SL, guided by Rafman's online persona, "Kool- Aid Man."
Examples of 360° Museum Tours
I've started to collect a list of museums that explicitly use the RICOH THETA. If you have contributions to the list, please let me know, I will add them.
Special thanks to community member and Google Trusted Photographer @Svendus for pointing to Google Arts and Culture