Can 360° photography provide an extra revenue stream to photographers and design studios? What does it take to get started with a first project to test the technology and, more importantly, test the results with customers?
With major support from Google, Facebook, Samsung and many, many smaller players, the technology side has moved forward quickly. Use of 360° imagery in marketing and media is growing, with big projects from the New York Times and elsewhere.

The RICOH THETA Unofficial Guide maintains a List of Google Street View Trusted Photographers, currently listing 70 photographers from around the world. 13 are based in the US, 19% of the total.
Daniel Holton has built up his company, TrustedPhoto.com, into a leader in 360 immersive media creation. The company boasts customers in diverse fields like Automotive, Brand, Spa, Real Estate & Vacation, and more. Holton won the 2016 THETA VR Image Contest in the "Moved moment, once again!" category with his exciting video, Cruising on the Colorado River. The company is certified as a Google Maps Street View Trusted Photographer.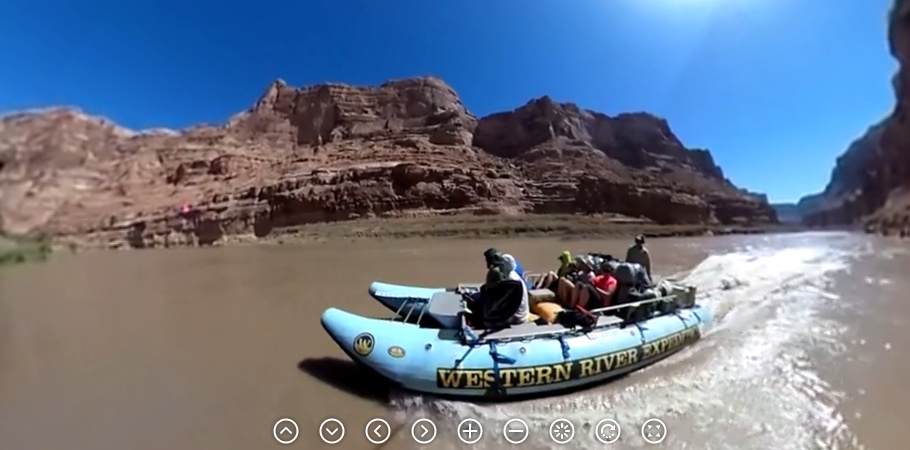 Video Credit: Daniel Luke Holton - trustedphoto.com
theta360.guide recently interviewed Daniel Luke Holton about the his success with 360° media and how he uses the RICOH THETA.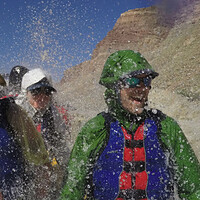 Video Credit: Daniel Luke Holton - trustedphoto.com
Congratulations on your winning entry in the 2016 THETA VR Image Contest. Can you describe the equipment and technique used in a more detail?
Daniel Luke Holton: Thank you! We had just run some of the largest whitewater rapids on the Colorado River through Cataract Canyon while filming HD 360° video for Western River Expeditions. While our guide was piloting us towards the takeout at Lake Powell, I extended my Theta S on my carbon fibre NodalNinja Travel Pole about 8-10ft. (2.5-3 M) off to the side of the raft. Extending out this far gave a great perspective of the raft cruising on the river through the unbelievably awesome scenery.
Using this setup is a great way to create tiny planet videos. Check out this video I created while on a boat in the Yucatan in Mexico. I created this with my THETA S camera and THETA+ Video app. https://goo.gl/ia8Zmp
Did you have problems with image stabilization? Lighting problems?
Daniel Luke Holton: On this section of river the ride was smooth, but we were cruising fast with a strong headwind making it difficult to hold the camera stable while extended as far out as it was. The accelerometer in the Theta S compensated for the movement well!
In the high contrast of the bright desert sun, exposure differences between the two lenses can be a problem. One half of the image will be overexposed and the other underexposed. There is a key to minimizing this problem. Aim the side of the camera between the lenses directly at the sun. This equalizes the exposures between the two lenses resulting in a much better image/video quality.
Can you tell us more about the motivation for founding TrustedPhoto.com? What's your vision for helping businesses with 360 images?

Daniel Luke Holton: TrustedPhoto.com was founded in 2012 just after an invitation from Google to become one of the first 35 Google Trusted Photographers in the U.S. My passion has long been photography and the new creative opportunities offered with the advancement of digital 360° imaging technology. I've been a professional photographer for over 17 years with over 10 years focused on creating spherical panoramic photography. With Google's backing I focused my creative vision into creating beautiful 360° tours for businesses across the United States. Since those early days, we've evolved our menu of 360° services to offer highly refined best-quality 360° photo and video virtual experience creation to local and national clients. The 360° image quality we provide our clients is crucial in creating the user experience that differentiates their businesses to their customers. In essence we create a platform for our clients to tell their story through a unique virtual experiences that engage potential customers by capturing their attention, curiosity and imagination.
Please describe your 360° image and video services. What's popular now? What do you think will be popular in 2 years?
Daniel Luke Holton: We utilize advanced techniques and equipment to create beautiful 360° imagery and ultra-effective immersive 360° virtual experiences for our clients . We're finding the more exciting and action packed the scene, the more popular it becomes. Viewers like to be wowed. We strive to wow them.
I believe a transformation is coming to the technology we use on a daily basis. Virtual, Augmented and Mixed Reality are going to change how we interact with technology. Real-life 360° photo and video will undoubtedly play an integral role.
How does the RICOH THETA fit into your business?
Daniel Luke Holton: I keep my Ricoh Theta with me at all times. It's great at capturing those unexpected moments. I also use it as a location scouting tool for my HD 360° work.
Some of our more adventurous clients are embracing the Tiny Planet 360°. They're seeing great engagement on social media by sharing these interesting perspectives from their events and activities. The Ricoh Theta gives us the power to share the whole experience with ease.
You list several business categories: Restaurant, Retail, Adventure, Gallery Museum, and Education. Can you describe where you see the biggest opportunity is for TrustedPhoto.com?
Daniel Luke Holton: We find great opportunity with clients that desire to relate and promote an experience. Whether it's dining in a stylish restaurant to seeing what it's like to raft down the Grand Canyon, companies can achieve deeper connections with their audiences by virtually immersing their them in the experience. Currently, the potential in creating high-quality 360° photo and video experiences is big! Our greatest opportunities come from clients who are willing to take risks, jump into 360° to tell their story in new and engaging ways.
What's the process for businesses to work you? Do you work on a retainer, project, hourly? Do they contract with an advertising firm or do they work directly with you?
Daniel Luke Holton: We work both directly with clients and through agencies. Being able to cater to all clients big or small gives us the opportunity to create 360° experiences on a wide range of subjects with wildly ranging budgets. We love being challenged creatively!
Do you handle advertising and influencer marketing to get awareness for clients?
Daniel Luke Holton: Yes. We help our clients with 360° content distribution across all available channels as well as utilizing our network of carefully selected partner Advertising and Marketing agencies.
Do you think the new THETA will be more beneficial for professional use?
Daniel Luke Holton: Absolutely! I'm eager to get my hands on Ricoh's next-gen 4K 360° cam. From the demo footage I've seen it looks to be a great new way to easily capture high quality 360° video. The added spatial audio capability will also be a big leap forward for the immersion factor.
What do you see as the future for headset usage? Your work seems to be more optimized for people to view the 360° media on a web site or mobile. Is that correct?
Daniel Luke Holton: Today, with smartphones in nearly everyone's pocket or purse, our largest audiences are still watching from outside Virtual Reality headsets. For now we'll continue to optimize the 360° experiences we create for viewing both inside and out of VR. As technology evolves and adoption increases, which is happening quickly, I believe our work will be more deeply enjoyed by full immersion inside of VR.
Can you share some cool stuff you've created?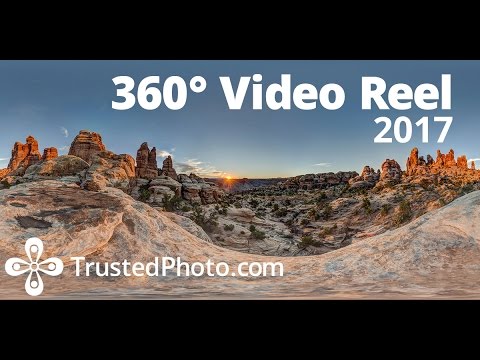 https://www.instagram.com/dlhcreative/