Basic tests of RICOH360 app
I have done some basic tests with the RICOH360 app. If you are using it and have details to add, please do so. I am simply sharing information.
On September 12, 2023 (Tue.), Ricoh will begin providing the app of RICOH360 which is a service that optimizes business and improves productivity. This service seamlessly links the 360-degree camera RICOH THETA with software and cloud services to provide new value to business sites using 360-degree data.
Announcement here: Ricoh to begin providing the "RICOH360 app" for a cross-industry 360 platform service that optimizes business and improves productivity - トピックス(米国)
Main observations
Very nicely integrated with THETA X

Integrates with X, Z1, SC2, SC2B, and V

Finds X, checks firmware version

Firmware update possible through app, appears to be the same sequence at the official RICOH THETA app (mobile update)

Connects to local network
Registers X through cloud
Note: The announcement indicates that "functions that use Ricoh's image processing technology, such as AI image correction and AI human blurring, are also available for effective use of 360-degree images." I tested the AI human blurring. It found not only me, but a face from a video conference on a nearby screen and nicely blurred both. Example here: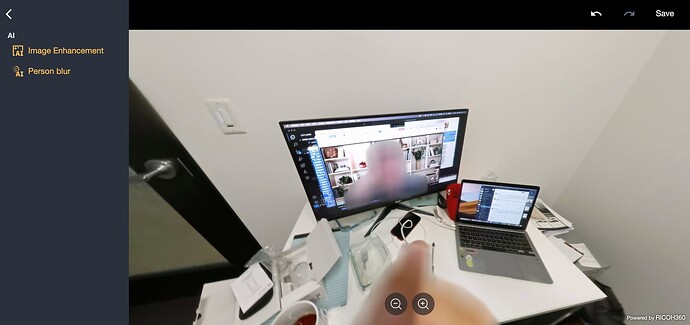 Screenshots from the setup, showing how it connects to the THETA and to the local network, all integrated well.
|
|
|
|
|
|
|
|
|
|
|
|
|
|