Noticed this new plug-in in the RICOH THETA Plug-in Store. It's called Self-timer Locked, and it sets the self timer for images and video. In other words, it sets up a delay between pressing the shutter button and the THETA taking a image - for both pictures and videos.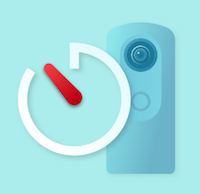 Yes, this type of functionality available with the official RICOH THETA mobile app. And, you can also press and hold the power button and the Wi-Fi button to start up you THETA in self timer mode.
But in testing, I found that the Self-timer Locked plug-in added an ease of use that wasn't there before. I think this is one of the strengths of plug-in in general: less steps, less effort, nice results.
Before I leave the house, I just set the delay (2, 5 or 10 seconds) and set the Self-timer Locked plug-in as the active plug-in. Simple prep. Then, when I'm out and around, I go into Plug-in Mode, decide picture or video with the Mode button. Then I just take a picture with the Shutter button or take a video using the Shutter button for start and stop. Very easy to duck behind something so the results do not include the photographer (me).
No fiddling with my mobile phone. Great for quicker setup, great for cold days.
Couple details on the LEDs when you're in Plug-in Mode below. Try the plug-in out yourself here!