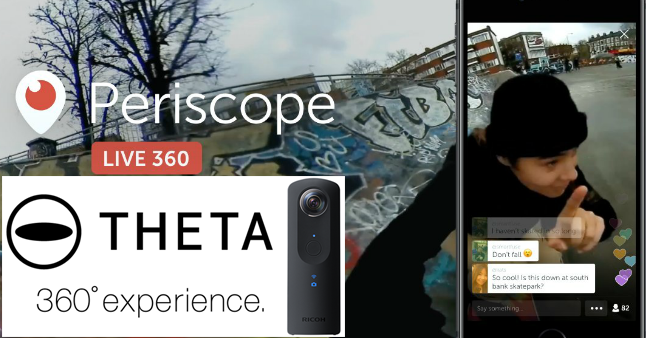 Enable Periscope Producer and Periscope360
You need a Periscope account that has both Periscope Producer and Periscope360 enabled. Both are free, but on a waitlist. Signup now.
Periscope Producer Waitlist
Periscope360 Waitlist
Overview of Components
You need to use an encoder on your desktop machine. Plug the THETA into the USB port of your PC. Run an encoder on your PC. The encoder on your PC will stream to an external server with rtmp. The Periscope app on your mobile phone will communicate with the external server to broadcast video from the THETA to the Periscope audience.
For more information on live streaming with the THETA, read the 360 Live Streaming Guide. The guide covers installation of the RICOH software and OBS.
Periscope test was done with Android. iOS should work the same.
Configure OBS as Periscope Encoder
I'm using THETA UVC HD Blender, not THETA UVC FullHD Blender. It may work with THETA UVC FullHD Blender as well. Please confirm if you test it.
Under Video, the base resolution is 1280x720 for the THETA UVC HD Blender. In my test, I believe that the Periscope documentation is wrong in specifying 1440 x720. The video sphere showed a gap. Downscale Filter is Bicubic. FPS is 15 for UVC HD Blender. The Periscope documentation states 30 fps for UVC HD Blender, but the UVC HD Blender has a max of 15fps, so that's what I set it to.

In the Output section, set Streaming Bitrate to 1500 to 2000. If you have good upstream bandwidth about 2Mbps, set it to 2000… The Keyframe Interval needs to be set to 2.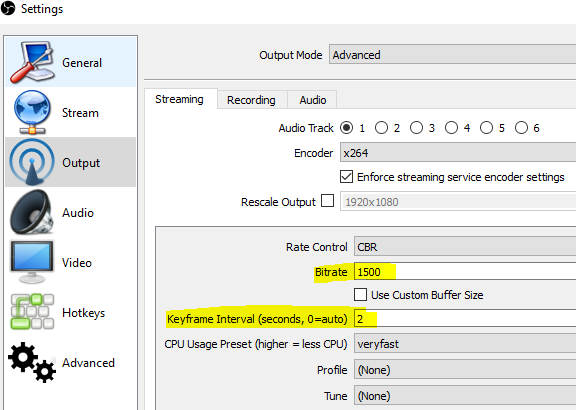 Under Output → Audio, set Audio Bitrate to 96. It's AAC or AAC-LC if you need this info.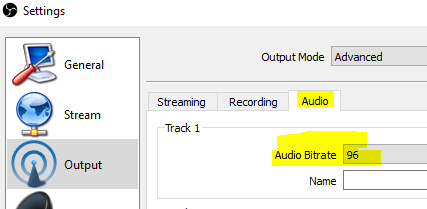 Under Stream
Get Stream Information from Periscope App
Input URL and Stream key from the Periscope mobile app.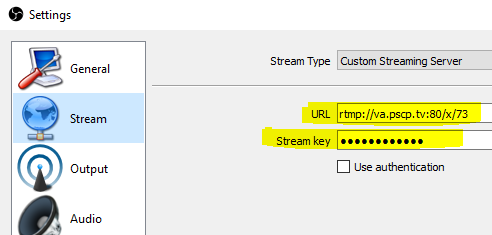 Click on your profile info in the upper right corner.
Click on Settings
Scroll down to Advanced Sources. Press the button.

IMPORTANT: You will only see Advanced Sources if your Periscope account is enabled as a Periscope Producer account.
You will only see the Preview Broadcast button if OBS is streaming with the proper server and stream key. Take the information from the screen below and type it into OBS. Once you start the OBS stream, you will see the Preview Broadcast button.
IMPORTANT: You should see Create External Encoder [360]. If you do not see the 360 portion, you do not have Periscope360 enabled on your account.
iOS screen below contributed by Daniel Rojas Roa.
Test Video on Periscope App
Press Preview Broadcast
You should see a 360 video that you can navigate with touch and swipe.
---
Cloud-Based Stitching for HDMI Output
I heard from Bob Hildeman, the CEO of Streambox, that his team tested the THETA S streaming 360 video to an Avenir Micro with embedded modem module with four modems and then used their Cloud Stitching platform to stitch the dual-fisheye stream into equirectangular for broadcast on Periscope360.
The AVENIRMicro bonds all 4 modems to achieve an effective streaming bitrate from the THETA mobile feed of up to 12mbps. In their experience, 5mbps is normally enough for the THETA camera feed.
Reference Links
Below are two official Periscope Help Center links related to this guide. I've found the information to be incomplete but am including them here for reference.