What We're Doing
We're using a RICOH THETA S to live stream 360 events to Facebook Live 360. The live 360 events can be viewed in VR headsets, on a mobile phone, or in a web browser.
What You Need
RICOH THETA S in live streaming mode
Mac or PC connected to the THETA S with a USB cable
THETA UVC FullHD Blender software from RICOH. Called Live-streaming app on their site. download
OBS or equivalent encoding software
Internet access with good upstream bandwidth
Facebook Live 360
Process
Set up UVC FullHD Blender. We're assuming that you have the THETA working with THETA UVC FullHD Blender in live streaming mode. If you do not, refer to the live streaming guide for detailed instructions.
Set up Facebook Live 360
Configure OBS with information from Facebook Live 360 event
Stream from OBS to Facebook Live
From FB Live, stream the event to your audience
Configure Facebook Live
Click on Create Live Stream
Select Location to Post
Show on your own timeline, a group, create an event, or broadcast to a page you manage.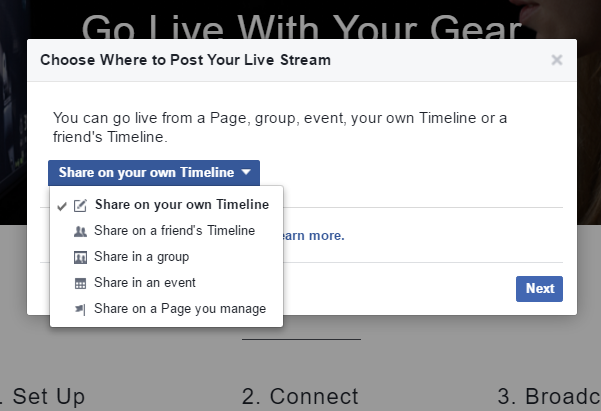 Select 360 video
Make sure you check, This live stream is a 360 video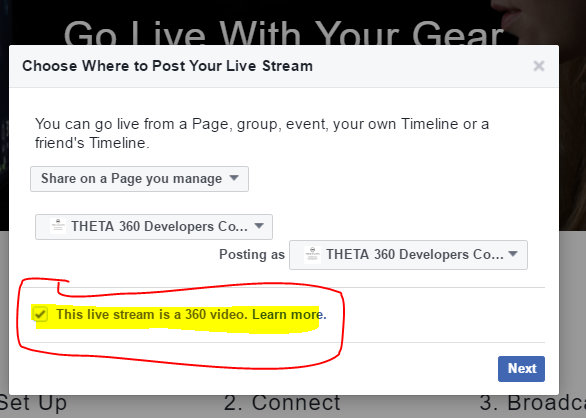 Get Streaming Information
On Facebook, get the Server URL and Stream Key
Configure OBS
Create Source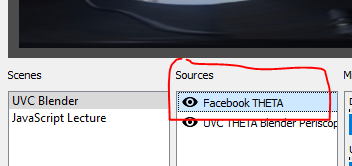 Configuration Overview
Target Resolution: 1080p at 2:1 aspect ratio (1920x960) • Frame Rate: 30fps
Target bitrate: 4 Mbps (megabits)
Keyframe frequency: 1 I-frame every 2 seconds (minimum) • Audio: AAC
Audio Sample Rate: 44.1 KHz
Audio Bitrate: 128 Kbps (kilobits)
Configure Video
Device: THETA UVC FullHD Blender
Resolution: 1920x1080 (if using driver above)
FPS: Match Output FPS (which is 30 fps)
Configure Stream
Under Settings → Stream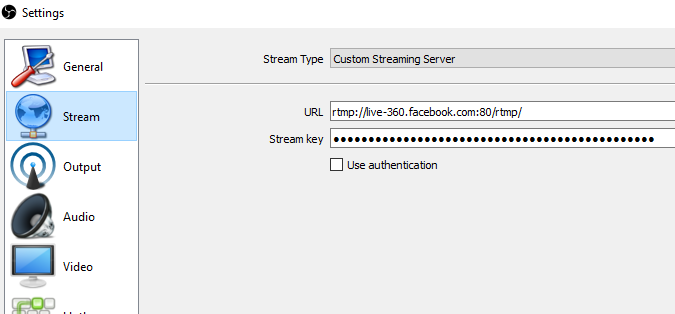 Configure Video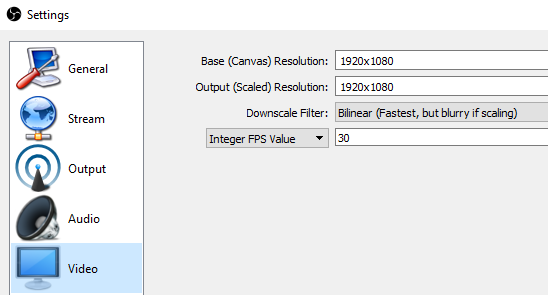 Preview Live Stream on OBS
Note that if you do not see an equirectangular video in live streaming mode, please refer to the live streaming guide.
Start Stream on OBS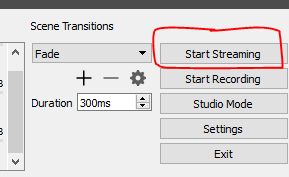 Go Live 360 Broadcast on Facebook
View Live on Facebook
Automatically Promote Saved Event on Facebook Timeline
Adjust Sharing, Expiration or Delete
Troubleshooting
Make sure the THETA is in live streaming mode.