The RICOH THETA is already popular in multiple industries including travel, real estate, and construction. This article looks more closely at the current state of 360° camera use in construction to see if there are business opportunities for developers that want to build solutions for the industry like an improved construction site tour or virtual training system with the RICOH THETA.
Overview
On-site cameras have been in use in the construction industry for years, with multiple specialist companies that provide high resolution cameras, software, data connection, live streaming, wide range shots, documentation storage, and more.
In most cases, the goal is improved oversight and management. The image below from Oxblue Corporation nicely captures the concept.
Source: OxBlue Corp.
Why Use 360° Cameras?
The key advantages of implementing a 360° camera solution for construction is to allow customers to be able to observe and make decisions quicker. Creating an as-built record of the construction site is another desirable function.
Other possible advantages include elimination of blind spots since a 360° camera solution would record in all directions. This could lead to cost savings. It could also lead to enhanced security. Live streaming from a site may also be of interest with similar advantages for implement a 360° camera solution. Quora discussion.
Example of HoloBuilder

HoloBuilder assists builders and engineers to create immersive views of construction sites. They offer tools to create and share 360° views of construction sites and buildings. Originally they had a wider focus, providing virtual tours for a wider range of businesses. They have spoken publicly about discovering the needs of the construction industry and how 360 camera images could be adapted to services that can make money.
According to Wikipedia, HoloBuilder is in use in 190 countries, encompassing 15,000 projects which have been viewed approximately 800,000 times.
HoloBuilder projects support multiple sheets, making it easy to manage big construction sites with multiple floors in one single web-based project. Cloud-based hosting means projects are are easily accessible from anywhere.
Users can import 360 pictures taken with cameras like the RICOH THETA S and combine them with 3D models from editors like AutoCAD, SketchUp or Blender.
Holobuilder's JobWalk app, released in the summer of 2016 for both iOS and Android, enables users to create virtual 360° worksite tours. The user connects a 360° camera to a mobile device via wifi. After taking 360° images and linking the scenes, the 360° tour can be synchronized with the HoloBuilder cloud service.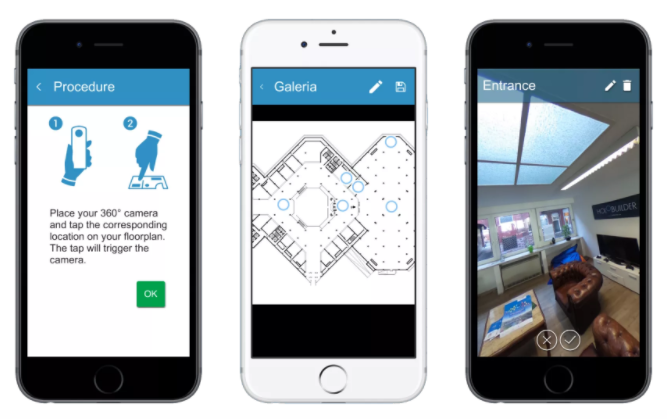 Main Benefits
Contractors have mentioned two main benefits in using 360° photos says Christian Claus, vice president of product management at HoloBuilder, quoted in Sourceable, a construction news site.
"One is during the construction, being able to interfere faster, and make decisions quicker," Claus said. Daily walk-throughs can be shared quickly with all stakeholders, allowing for quicker solutions to mistakes.
The second use automatically utilizing the succession of daily photos to create an as-built record of the project.
"You would do this ongoingly and you create an as-built model, basically, of the entire construction process, and it's size and duration," Claus said. "This requires hardly any effort, given that if you are a foreman or a superintendent, you would walk the site anyway. So in this case you would just put a camera on your helmet, or hold a camera while you're doing that," he added.
VR in Construction
StrXur, a design and construction news site, has looked into creating a first-person virtual reality experience on construction sites for less than $1,000. Citing the example of Black & Veatch, an employee-owned engineering, consulting and construction company with more than 100 offices worldwide, they described a recent project using lost cost VR equipment to quickly and easily show the construction jobsite current status in VR goggles.
Black and Veatch VDC Manager Ben Bringardner says "[The project consisted of] taking still photos at mornings and nights on areas of work, and I was working with them to try to organize the imagery for progress reports using a $2 app called 360 Panorama. I discovered a (Ricoh Theta S) camera with dual fisheye lenses that I thought might provide a better shot. We got the camera and took it down to the site just to see if it had value. It paid off. It just so happened that the app that came with the camera also had a first-person VR mode. Soon as I saw that I thought, 'Holy cow!' I went on Amazon and overnighted a pair of Google Cardboard to myself. Now, I am able to walk out to the site, walk back in, and share a virtual experience from our in-progress jobsite."
StrXur concludes: "While it is not standard practice yet, the potential for utilizing this experimental VR… may be too large to ignore."
Business Opportunity
With expenditures reaching over $1,162 billion, the US is the one of the largest construction markets worldwide.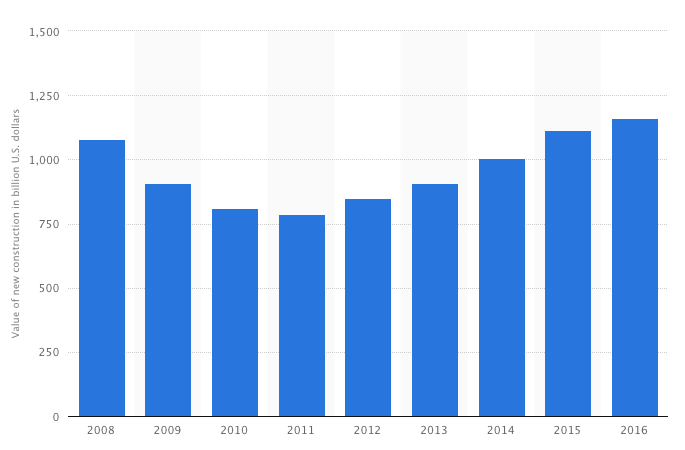 There appears to be real interest in using new 360 degree imaging technologies in several specific areas:
Build a bundle of camera, hardware and cloud-based system and focus on construction site needs. HoloBuilder has defined being able to observe and make decisions quicker and creating an as-built record of the construction site as two leading opportunities.
Develop software to increase ease of use for general contractors and construction site managers.
The areas where development could turn into a viable product are:
Simplify virtual tour creation with the THETA SC, potentially connecting the 360° camera to a helmet-type device during the daily site walk-through. There needs to be a mobile app that is used to take the pictures and automatically create the tours in the cloud without manual linking.
Security solutions may be a possibility. Low-cost 360 cameras like the THETA SC may not provide sharp enough resolution. But their complete coverage may be able to be paired with existing security cameras to help with aiming to eliminate blind spots.
Providing real-time coverage of construction sites through live-streaming, with the ability to navigate within the 360° stream may be possible.