Official announcement in English is here
■RICOH THETA V
・Added a function to correct rotational shake when shooting video.(When transferring to a smartphone with zenith correction turned on)
・Subject shake when shooting video has been reduced.
*Noise may increase depending on the shooting conditions.
・Purple fringing has been reduced.
・Resolved the problem that weakened the spatial audio effect when recording with the 3D microphone (TA-1).
・Changed the default time until auto-shutdown from 48 hours to 18 hours.
RICOH THETA V RELEASE NOTES: Version 1.20.1
*The firmware upgrade for the wireless LAN client mode that was scheduled for 2017 has been postponed until spring 2018.
<How to Update your RICOH THETA>
You need to install Computer application in order to update your RICOH THETA. Please download it from the link below.
*Changed the app platform from Air to Electron.( After September 1, 2017)
Uninstall any older version of the basic app for PC (version 2.3.4 and earlier) if installed.
For details on how to update using Computer application, see
"Updating the Camera Firmware from the Computer Application" in the User Guide .
It is now possible to upgrade firmware for the RICOH THETA V camera from the smartphone app(Android Only).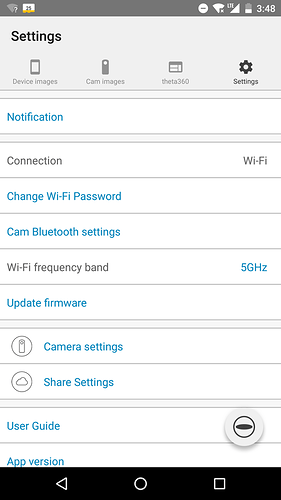 ---
Release Notes for 1.20.1
Still image joining accuracy has been improved.
Added a function to correct rotational shake when shooting video.(When transferring to a smartphone with zenith correction turned on)
Subject shake when shooting video has been reduced.
*Noise may increase depending on the shooting conditions.
Purple fringing has been reduced.
Resolved the problem that weakened the spatial audio effect when recording with the 3D microphone (TA-1).
Changed the default time until auto-shutdown from 48 hours to 18 hours.
Bug fix