Live Streaming using Windows 10 now works great using MPC-HC and OBS with both the THETA V and THETA Z1. Please download the driver below to use live streaming effectively on the broadest range of software.
Update June 2020
Version 2 of Windows Driver Now Available. Single driver for V/Z1. Driver performance is improved.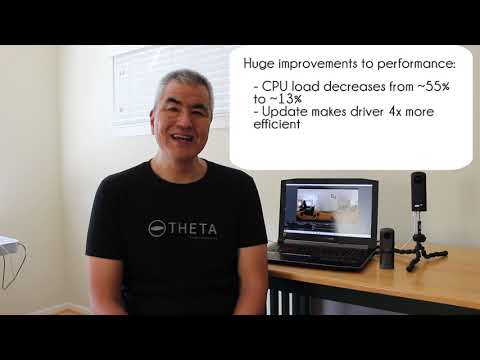 Update October 18, 2019: Z1 Windows Driver Now available
Login at this site post on this discussion thread and we'll send you the link. GMAIL is needed for the site login.
The Z1 screen should show the word LIVE as in the screenshot below. The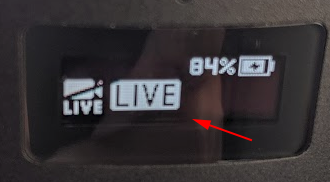 Update 10/13/2017: THETA V Driver now on Ricoh Site for Immediate Download
https://theta360.com/en/support/faq/c_06_v/304_1/
Win64: https://theta360.com/en/support/download/liveapp4k/win64
Win32: https://theta360.com/en/support/download/liveapp4k/win32
Update 10/18/2017: Single channel audio now works with Windows 10 Fall Creators Update
See this post down in the discussion. Note that Fall Creators update was released on 10/17. This is Windows 10 version 1709, not the older 1703. Audio from the THETA V does not work with Windows 10 1703, but you can mix it with an external microphone.
Using RICOH THETA UVC 4K With OBS
I'm getting excellent results with RICOH THETA UVC 4K. I'm assuming this will be released more widely after the Ricoh team tests it more. I indicated that I would write up my experiences.
Live streaming video quality is excellent, much better than the THETA S. If you do live-streaming, you need to upgrade! This is a massive improvement. It's a game-changer as the THETA S could not really provide an immersive experience for live streaming due to fuzzy details. With the new resolution, telepresence should be great.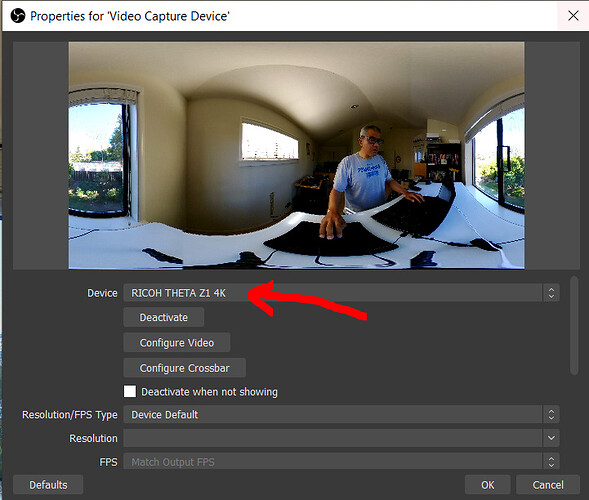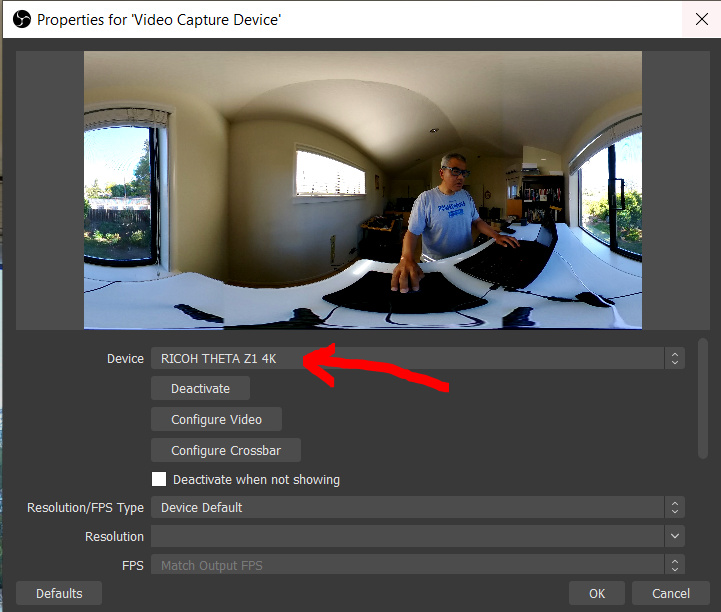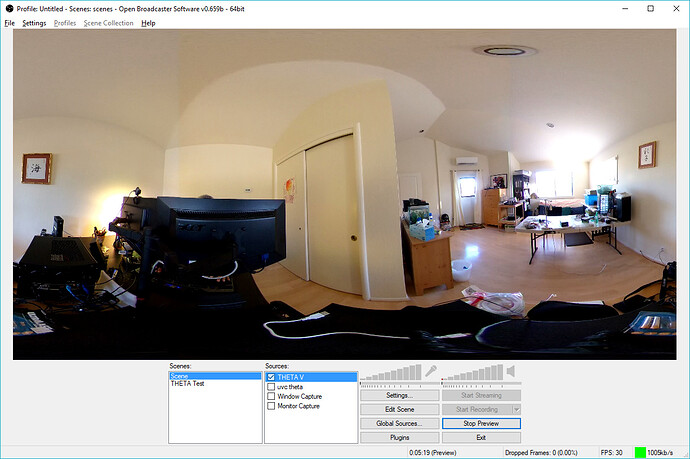 Using the pre-release software, I found MPC-HC and OBS to both work great. Live streaming quality and smoothness were excellent.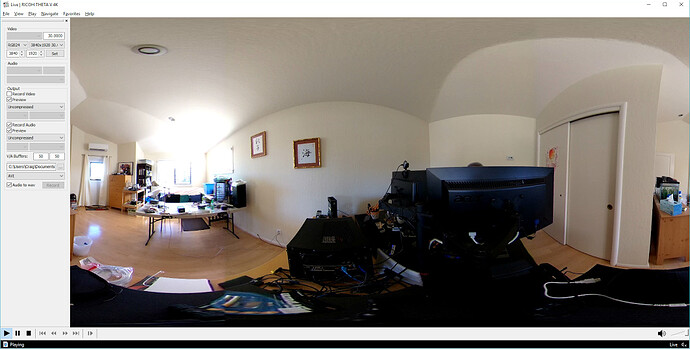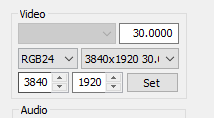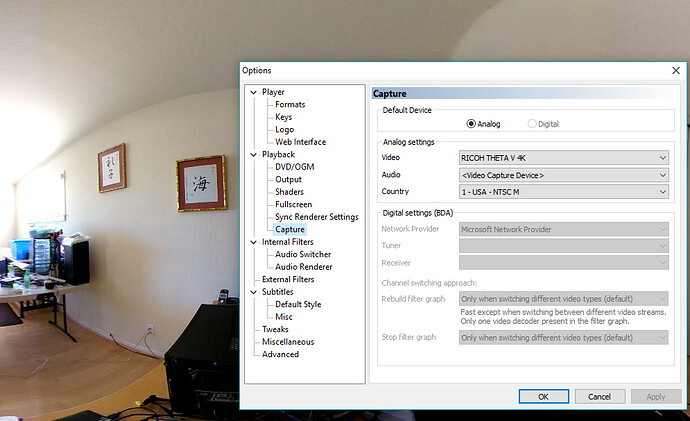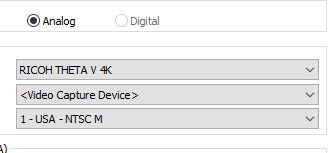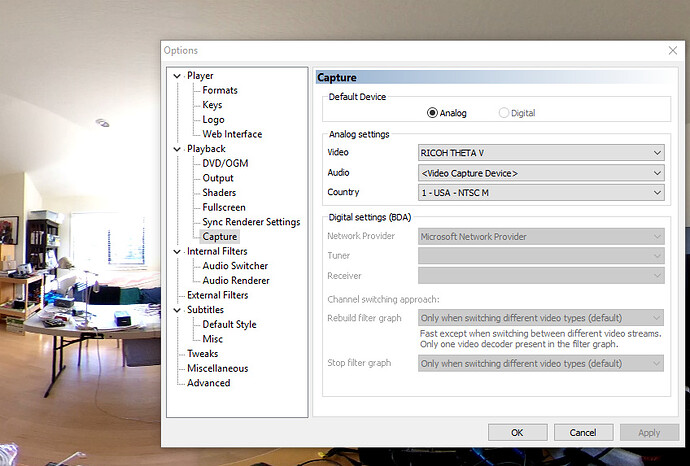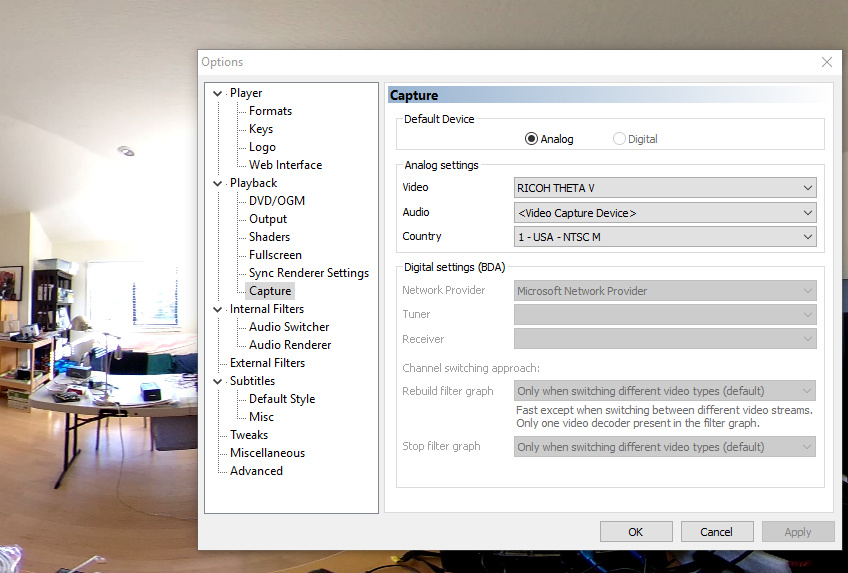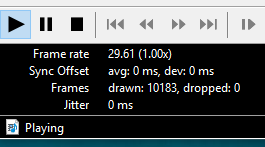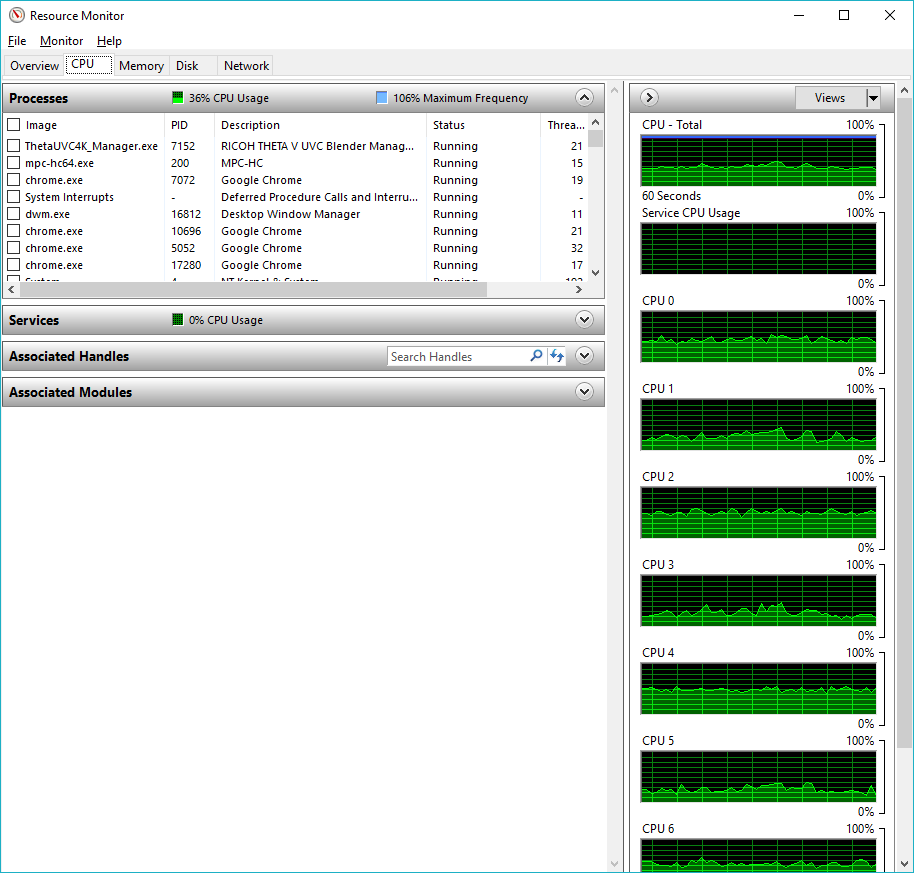 OBS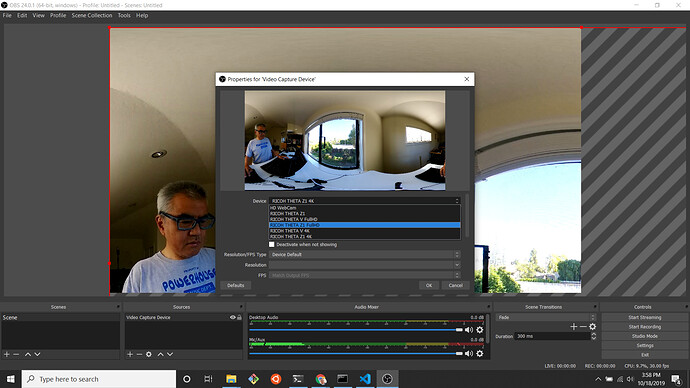 Update: 9/27/2017. I just ran the test again and am now only seeing 10% system load on OBS 19.0.3.


Note that a previous version of this article showed high load on OBS 0.65, which I mistakenly used for my test. This is old software. I'm running the test again for OBS 19.0.3 now. CPU load is now 10%.
16 GB of system RAM
CPU: Intel i7 4790K (4 core)
GPU: NVIDIA GeForce GTX 750 Ti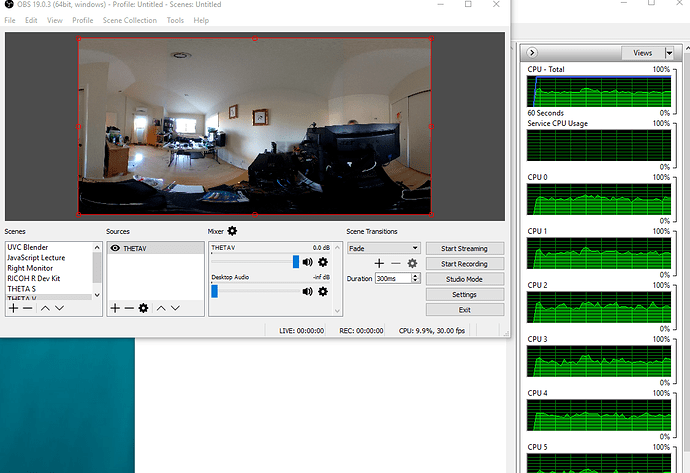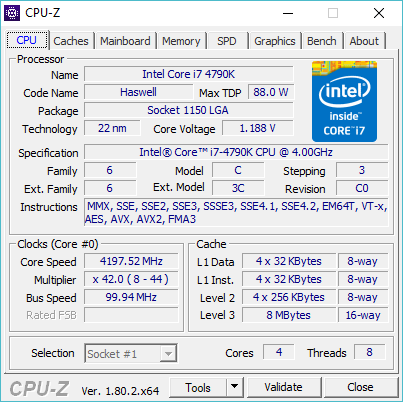 Note on Using MPC-HC Without UVC 4K Driver
Don't select Microphone (RICOH THETA V) as Audio. If you set it, MPC-HC does not show the live stream from the RICOH THETA V as a web cam. It's an issue with the Windows USB driver. If you set as the screen below, you can see the live from the RICOH THETA V on the MPC-HC without UVC4K.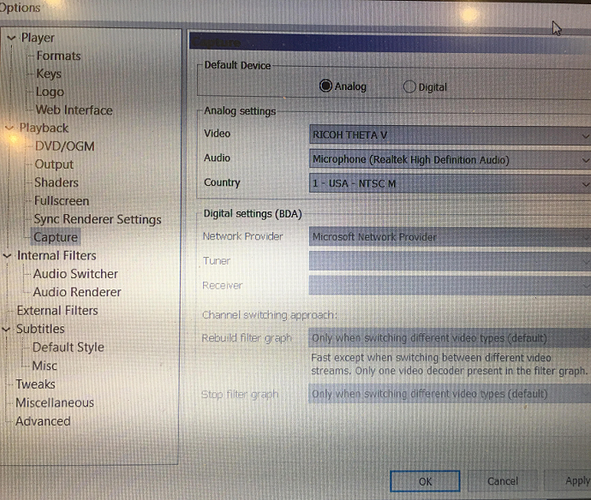 Update: 11/7/2017 - tested THETA V driver with MPC-HC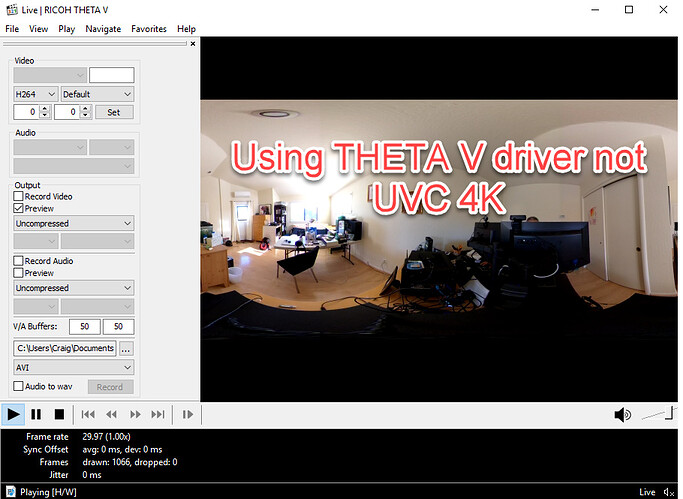 To access the settings, go to View → Options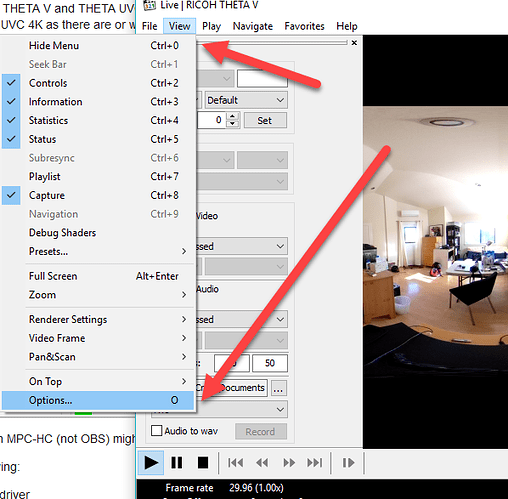 Under options, select Capture - > Video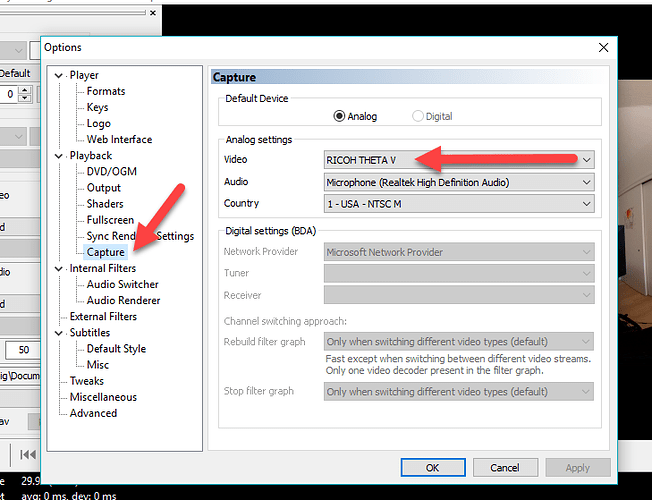 On my system, I have a multiple webcams and multiple drivers. Select RICOH THETA V.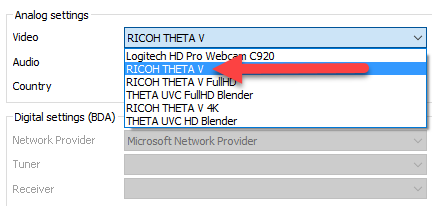 2 Hour 4K Stream Test
No problems with heat.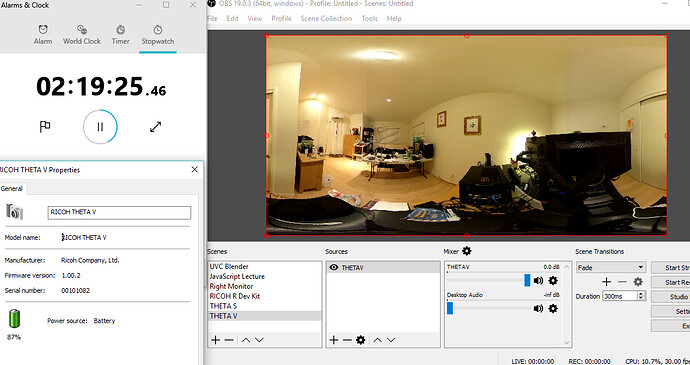 THETA Not Appearing as Webcam
Try disabling anti-virus. Community member Ruben Lazaro reported problems with BitDefender.