Now it becomes easy and precise to work as local Guide on Google Maps
leaving the mobile Street View app far behind

Pano2VR 5.2 beta — What's New
The big news is the Street View Export,
Pano2VR 5.2 beta features the new Google Street View Export., it have integrated the export as part of the software.
Google Street View Panel
Open the Street View Panel from the Toolbar, connect your Google account and upload your project directly to Street View.
To add connections just add hotspots to link the panoramas.
Improved Map View
You can now see linked nodes and you can also create links (hotspots) directly in the map.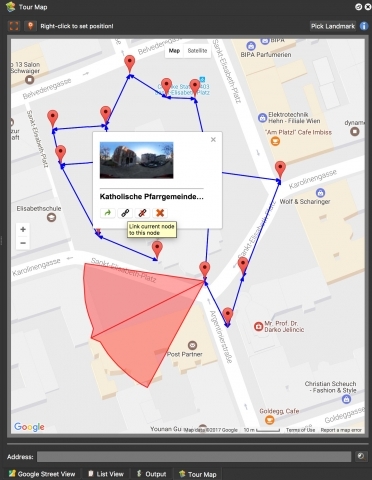 Map in Pano2VR 5.2
Auto Place Hotspots
In the Hotspot Properties panel, you will see a new option called, Auto Place. When this is selected, the hotspot is automatically positioned in the correct location of the linked panorama
Auto Place
Set North
You can now set North by pressing N and dragging the panorama to achieve the correct
heading.
If you have connected hotspots in Pano2VR Pro, you will see a thumbnail of that panorama to help the guide placement.
Martin Hopkins (alias Hopki) has created a video that shows the process: