Jesse,
Exactly. Modify camera settings on the run to match conditions. And since the LBB let's you look at the output anytime during a run you can have a good idea what you need to modify. I have also just added the ability to run exiftools on the pictures residing on the Pi. Here is an example (parts are cut off but the text area is a scrollable box).
The weight as is seems fine for the stand and extension that I am currently using.
When I started doing the time-lapse work I was just controlling the camera with my iPhone and running pythton scripts on the phone to control the camera and store the images. This works but it ties up the phone and limits the distance between the camera and phone due to low wifi power and poor antennas. I then moved on to adding a Pi zero W to control the camera and then a second wifi circuit to talk to the Pi zero W via SSH so that I could modify scripts on fly and move pictures off the pi at will. Here is a pictures of that setup. Just add power, selfie stick and bungee cords.
Between the two systems I have lots a flexibility now. Of course all the upgrades that I have done system/software wise can be applied to both hardware configurations.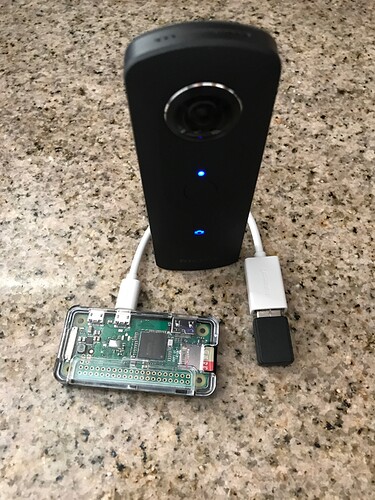 Minimum you need to set up the Pi to auto connect to the Theta S on one of the wireless networks and you also need to have a wireless access point set up on the second wireless network. The access point is where you can log in (with multiple devices) to do things on the Pi. At a minimum you need to have SSH turned on so that you can use the Pi in a headless mode. With the LBB I have taken everything to the next step by adding a web server, PHP, file manager (Samba), Google VRserver, WIFI Command, and now ExifTools. Here is an updated map of what the LBB can do.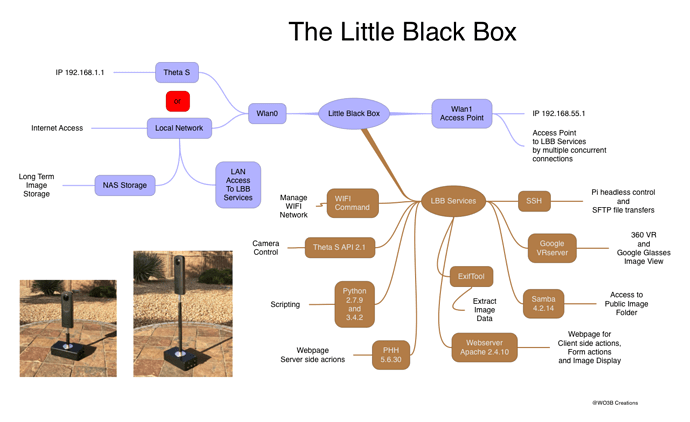 As for power, I believe the internal battery of the Theta S and the LBB can power the system for about seven hours. For really long runs I just add an external 5V power source. A bigger battery or a power adapter. One thing nice about the LBB power system is that it can take a "dirty" input and clean it up to keep the Theta S and Pi happy. The Adafruit charging/boost circuit and the LiPo battery built into the LBB do a really nice job of ensuring a nice clean and constant 5.11V output with no spikes.
I think that I answered all your questions. If not, fire away.
Bob