People in a scene can be hard to deal with if you are shooting a space you can't control like a busy hotel lobby or outdoor public space, often resulting in artifacts when multiple bracketed images are merged to create the HDR. Below is a test I performed in my backyard using the Theta Z1.
All 3 test images were created from 9 brackets and processed using different methods.
I walked across the yard at the same speed for each test.
I've zoomed in on the areas with movement.
DNG brackets merged in PC using AuroraHDR with NO DEGHOSTING applied.
DualFisheye in-camera DNG_HDR with motion detection ON.
DualFisheye in-camera DNG_HDR with motion detection OFF.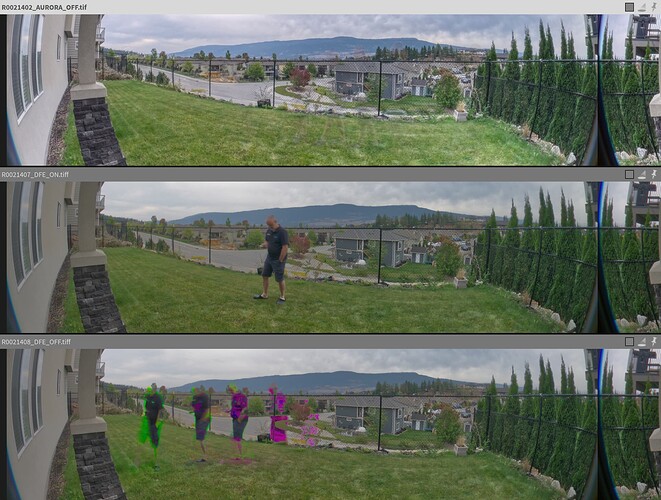 Since I focus on virtual tours for businesses, it's essential that I minimize the number of people in the shots without having to deeply edit each photo, and I find AuroraHDR's result much more acceptable to clients who would rather showcase the space than the people in it. If a client pays for the editing, it's also far easier to remove translucent objects from an image than opaque ones. This is of course very specific to my type of clients, but I thought the side by side comparison might be useful if your looking for a particular effect.
It's worth noting that these are outdoor shots at short shutter speeds. At the longer shutter speeds necessary for indoor shots, people walking thru a shot are usually completely erased from the final image with no editing using AuroraHDR.
A good use for DFE_DNG with motion detection ON like in photo 2 is outdoor images with objects that move subtly like trees, water, flags etc to essentially freeze all motion in the shot. AuroraHDR's deghosting correction causes too many artifacts with 360 images to be useful in every situation I've tested, so I didn't include it in this example, and the DualFisheye motion detection is quite good. The editing required to remove people from an outdoor shot is also a lot more forgiving.