Nice!!! Way to go. Thanks for the report back. Very motivational.
I tested the Nano with OpenCV Python.
This test script works. I have v4l2loopback installed. I will document more tomorrow. I think I made some video screen captures of the process to get it work. I say, "think," because I decided to use gstreamer to make the videos screen captures and I'm not that familiar with gstreamer.
import numpy as np
import cv2

cap = cv2.VideoCapture(0)

while(True):
    # Capture frame-by-frame
    ret, frame = cap.read()

    # Our operations on the frame come here
    gray = cv2.cvtColor(frame, cv2.COLOR_BGR2GRAY)

    # Display the resulting frame
    cv2.imshow('frame',gray)
    if cv2.waitKey(1) & 0xFF == ord('q'):
        break

# When everything done, release the capture
cap.release()
cv2.destroyAllWindows()


This is a frame from the output of cv2.cvtColor(frame, cv2.COLOR_BGR2GRAY) running on the video from a THETA V. It's a big frame and this is only a small part of the shot.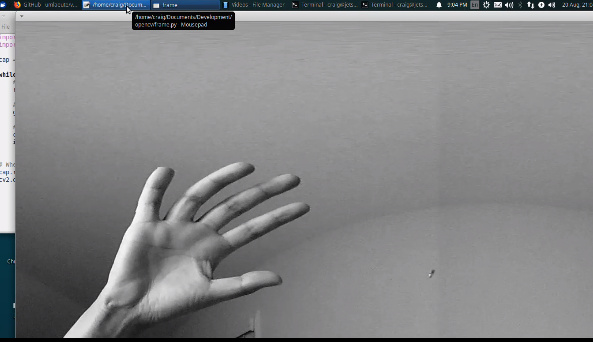 Update 2020 08 21 9:23am PDT
The following was added to the site below:
https://theta360.guide/special/linuxstreaming/
screencast build on of libuvc on Jetson Nano
explanation of why the demo is failing on Rasbperry Pi 2, 3, and 4 (in 4K) and will likely continue to fail due to hardware limitations
explanation of problems with x86 Linux with discrete graphics card and two possible workarounds (I still need to test this on different platforms)
tip to optimize NVIDIA Jetson video
instructions to get video to work on NVIDIA Xavier
Update 2020 08 21 9:51am PDT
new video on building and loading the v4l2loopback to expose /dev/video0 (when only one camera is connected)
I'm working on more documentation and videos at the moment.
Reminder: Fully Online Meetup on this topic on Sept 1 at 10am PDT