Plug-in Technology Smashes Through 25 Minute Limitation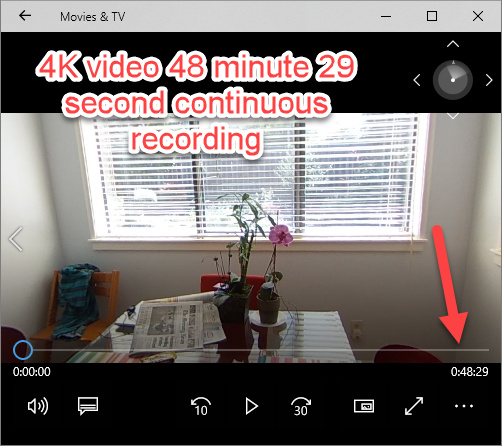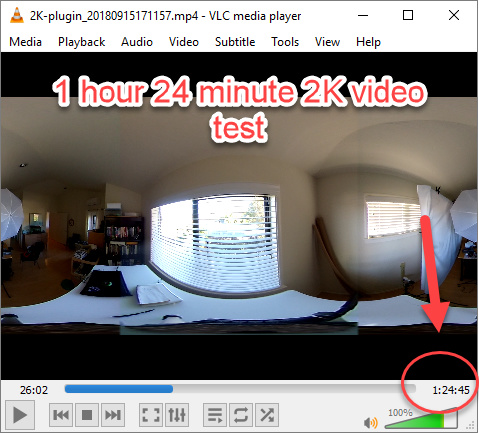 Without plug-ins, the THETA V can record video for only 25 minutes.
With plug-in technology, I recorded a 4K video with 4-channel spatial audio that was longer than 48 minutes. Specifications on the main THETA V product page on the Ricoh site indicate max record time per video of 25 minutes. We can get around this limit.
My 48 minute 29 second video test resulted in a 19 GB MP4 file saved to the THETA internal storage with a resolution of 3840x1920. A companion .wav file with 4 channel audio was 1.04 GB. The plug-in will automatically stop the video when it reaches 19GB.
---
How to Use the Plug-in
Set Long 4K Video Plug-in to Launch
Use the official Ricoh or mobile app to set Long 4K Video to launch.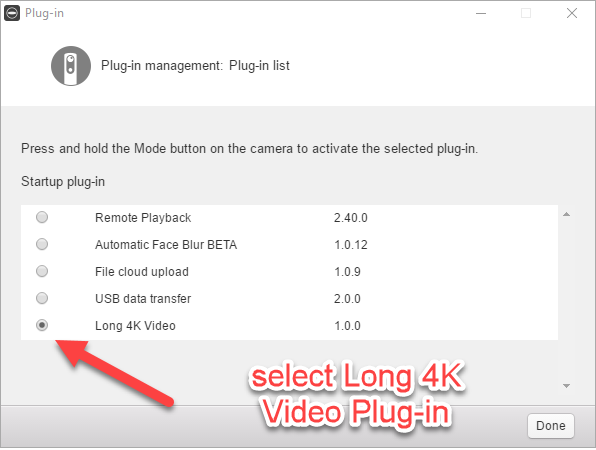 Put camera into plug-in mode
Press the lower mode button for 2 seconds. The white LED light on the front will turn on.
Press main shutter button
Press the main shutter button. The red record button will blink.
---
Transfer Large Files from Camera to Computer
If you fill up the entire 19 GB storage of your THETA V, you will see a red storage LED. In my tests, this was fine and I had no problem. The red storage LED went away after I deleted the large file from my camera.
Connect Camera to Computer with USB Cable
I've only tested this on Windows 10. Connect the THETA V to your computer and drag and drop the video file onto your computer.
When I started the transfer to my Windows 10 desktop, I saw some large times remaining. You can ignore this as the the time was not accurate. It takes about 5 minutes, not 1 hour 20 minutes.
Camera back to normal after I transferred the 17 to 19 GB files to my computer and deleted them from the camera.
---
Notes On Usage
As of September 15, 2018,
video will fill entire 19 GB storage of internal camera storage. To get the longest video possible, delete the existing files from your camera before starting the video recording session.
No metadata on video file using this plug-in. You may need to add it, depending on your use of the video. See these articles:
the mp4 file has single channel audio only. You can't use the Ricoh Movie Converter
the .wav file has 4 channel first-order ambisonics B-format

you need to use adb pull to get the audio file see instructions below

to combine the Ambisonics audio and video, read this tutorial from Adobe on using Premiere Pro to assemble the audio and video for your immersive experience.
You may need to use adb to delete old audio files. See this article.
Possible changes
fps is 30. this is adjustable in the code
video encoding bit rate is 56Mbps. this is adjustable in the code
video is 4K. There is another plug-in that records 2K video. resolution can be changed in the code.
video encoder is H.264 and we cannot change it to H.265
video is stitched in the camera to output equirectangular. can be changed in the code to record dual-fisheye video inside the camera.
---
Requirements
RICOH THETA V in Developer Mode

You must register your camera with the partner program to put it into developer mode. Start the process of signing up for the partner program here.

Firmware ver.2.40.2 and above

Information on checking and updating the firmware is here.

Windows 10 Version 1709

macOS High Sierra ver.10.13
---
Test File Information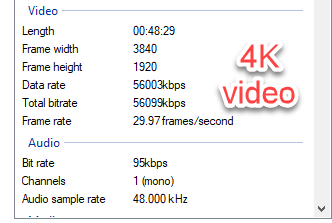 From the Ricoh site, it appears that the internal storage capacity of the camera will limit maximum video length.

One-Time Permissions Configuration
As this is a developer version of the plug-in, you will need to use Vysor to set the permissions. This is a one-time configuration that you need to do each time you install a new version of the plug-in.
In Vysor, go to settings
Select Apps
Select Long 4K Video
Select Permissions
Enable Permissions to Camera Features
How to Install the Plug-in
If you're a developer and are part of the partner program, you can go to the next section and install the plug-in from the GitHub repository.
If you're not ready to compile the source code with Android Studio, @jcasman will work out a way to help you. Drop us a note below and he'll contact you.
You'll need to:
sign up for the partner program. It's free.
get the plug-in from @jcasman by posting a note at the end of this article. Something like, "send me the long-duration plug-in for testing"
install a few basic tools, adb and Vysor
install the camera plug-in from the command line
set the default plug-in using the Ricoh desktop or mobile app
use Vysor to set plug-in permissions
It's a long set of steps, so we'd like to help. You can also send @jcasman a DM.
Transfer Spatial Audio File to Your Computer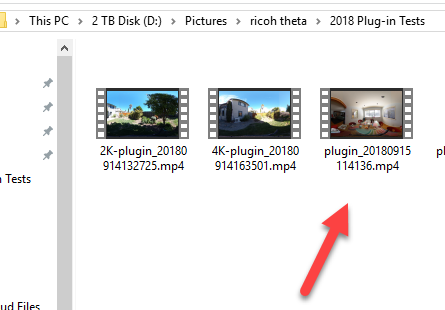 In the example above, the mp4 video file is called plugin_20180915114136.mp4
The audio file name is plugin_20180915114136.wav. The only difference is the .wav extension.
Transfer the audio file to your computer with
adb pull /sdcard/DCIM/plugin_20180915114136.wav

You now have both the audio and video files.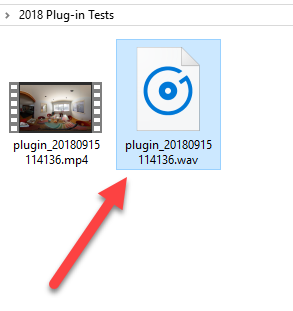 You'll need to use a tool like Premiere Pro to assemble the files.
Delete the audio file from your camera.
adb shell rm /sdcard/DCIM/plugin_20180915114136.wav

Long 2K Video Plug-in
The Long 2K Video plug-in operates the same except for these differences:
video is in 2K
audio is embedded into the mp4 file
video length is longer
Selection
The plug-in name is Long 2K Video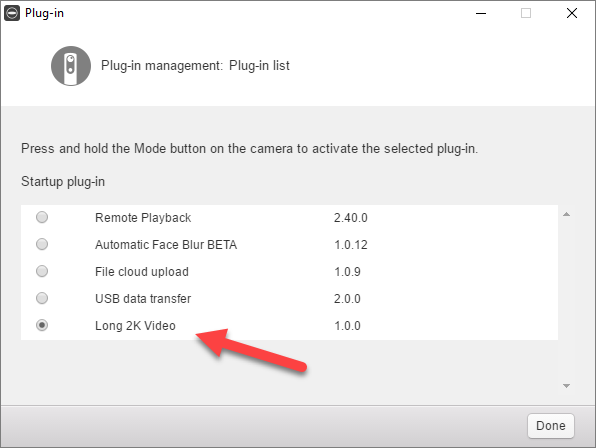 ---
Developer Information: THETA CameraAPI Capture Plugin
Plug-in specifications
Captures still and video by using Camera API, AudioManager API and PluginLibrary for RICOH THETA V.
After capturing still or video, the JPEG or MP4+WAV file is stored in /sdcard/DCIM/ folder.
The stored file name is "yyyyMMddHHmmss".jpg (.mp4 or .wav for video). "yyyyMMddHHmmss" is 20180123123456 when it is 12:34:56 Jan 23, 2018.
WebAPI can not be used when Camera API is used.
The .wav file includes 4ch spatial audio as a first-order ambisonics B-format.
The .mp4 file includes 4K video and 1ch monaural audio.
The metadata of the files (.mp4 and .jpg) which outputted by using CameraAPI will be missed than the case of using WebAPI. (We recommend to use WebAPI instead of CameraAPI.)
Check Back Soon for Updates
@jcasman can send you three apks, one for 4K long-duration video, tested for 45 minute continuous shoot, one for 2K long-duration video, tested for 84 minutes of continuous shooting, and one for surveillance or monitoring which can take 4 hours+ of video. The code we're using for the plug-in used in this tutorial is different from the Ricoh repository and is available on GitHub
Post-Production Workflow Information
---
Surveillance Mode
I am still experimenting with different bitrate and framerates. Check back for progress in the future. Current tests can record 19 hours 55 minutes of 2K surveillance video at 10fps. I'll post a short test clip soon so people can see the quality.